Waynick is the Indie-Pop musical project of Sara Abdo and Joe Kazan, two old friends from Beirut, Lebanon who spent their childhood summers making music.
The band currently consists of Sara Abdo (lead vocals/guitar), Joe Kazan (lead vocals/keys), Malek Nacouzi (bass guitar), Nicolas Tabanji (drums/percussions) and Roger Zouein (guitar/synth/backing vocals).
They have explored themes of cultural dissonance, grief, and identity, and self-discovery through their debut EP Before I Leave. They have recently released an intriguing music video for "Glasshouse", their newest single, directed by Laudy Issa.
We wanted to learn more about the band's different shades and their music's various shapes so we asked some questions and they gave some answers. Anyway, get to know the colorful band in the interview below.
– Interviewed by Ghiwa Sadek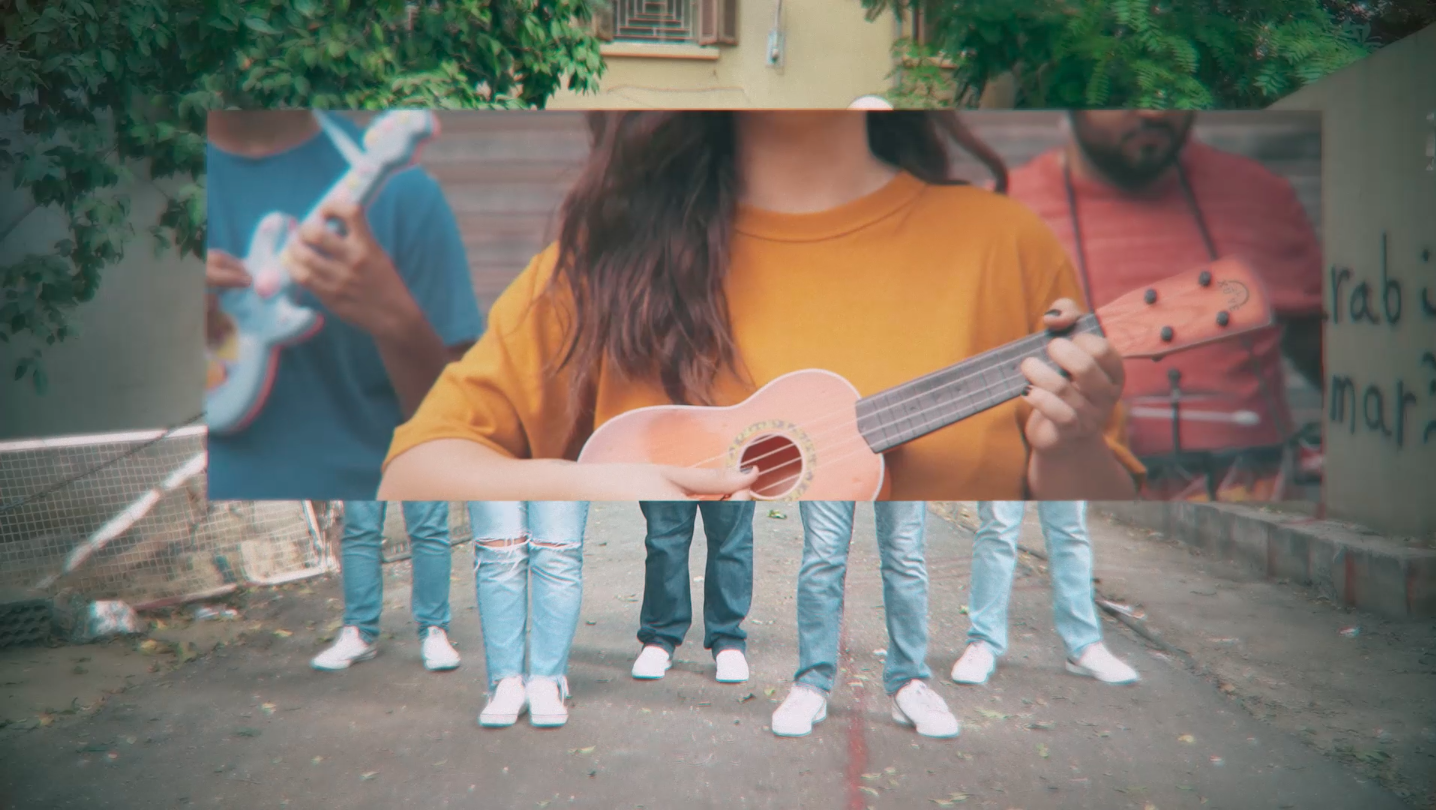 How did the 5 of you come together as a band?
Sara: Joe and I have known each other since we were kids. We used to spend our summers at the same beach and have been good friends ever since. My mother used to encourage me to sing (sometimes forcibly in public, haha) and Joe's parents enrolled him in piano classes at the age of five. So music joined us and made our bond stronger over the years. Fast-forward fifteen years later, I decided I wanted to do music professionally and so it was natural for me to contact Joe.
Joe: I'd like to think of Waynick as a music cooperative. We've had members come and go over the years but they're all still part of the family. Nick and I are school friends so he's been with us since the very start. Malek and Roger joined us over the years thanks to the recommendation of previous members who left Waynick.
We've been quarantined for a while now. How are you spending that time? Are you still working and producing?
Sara: It's been an interesting period. A lot of emotional ups and downs but I think we all recognize and are grateful that we somehow have a safety net. I've been trying to use this time to write music and produce things at home. It's been a rewarding experience, away from the distractions of the outside world. Joe's experience has been different because he's in his last year of medical school so he's been working at the hospital and taking shifts. Roger's stuck in the U.S. and has been trying to get on a flight back. But we're all spending some time creating music and virtually sharing it with each other.
What do you think will happen next? Do you feel that the pandemic will lead to a new way of producing music in a group?
Joe: From what I've understood from my interaction with colleagues in the medical field, we should be expecting more waves in the future. But regardless, I think the Covid-19 pandemic drastically changed the way we operate in the world, especially in our profession as musicians. We rely on live performances for promotion and revenue, which depends on our ability to 'gather'. This doesn't seem to be feasible, at least not in the near future. I believe we'll still be able to produce music as groups of 5 or even 10 but the marketing and promotion end of things will have to adapt to the new normal, with a heavy reliance on streaming and social platforms for the delivery of music.
What does your creative process look like?
Sara: It's an intuitive mess, hahahaha. It's a dynamic process that's not really straight-forward. Sometimes I write something on my own and share it with the band and we see how we can work with it and modify it. Other times, Joe or Roger come up with a melody or riff they want to further develop. The moment we bring an idea or a draft to the table, it is no longer a personal draft, it becomes ours as a group. We all take ownership of it and cooperate with a lot of trial and error to reach the songs in their final versions.
The songs on your album Before I Leave seem to be very different yet very similar at the same time; from the happy tunes in "Piccadilly" to the gloomy melodies in "Fumes", there seems to be different moods that are coming from the same person. How did that album come together?
Sara: The album was a culmination of two years of songwriting which were accompanied by frequent performances across Lebanon. Like most bands, we started out as a cover band but ever since we won Beirut Open Stage Wave III and recorded our first single "Carolina" in 2017, we felt like we had a story to tell and we wanted to deliver it to our listeners. I do agree that there is a paradox between songs in the EP, which is only natural since our writing is inspired by our life experiences (that aren't always strictly perky or gloomy, haha). As we wrote the music for Before I Leave, we performed the drafts live with different crowds and so the songs evolved from concert to concert.
Malek: I joined Waynick right as they were ready to record Before I Leave so the songs were already in their final form. As an observer (or listener) initially, I do agree that it very much seems like different moods coming from the same person. The more time I spent with the band, the more I understood the music and how the members' different life experiences fused into Before I Leave.
I remember attending a live concert of yours at AR_KA and hearing the whole crowd sing along from beginning to end as soon as you started singing "Carolina" as if they were part of the band. How do moments like these make you feel?
Joe: It's surreal every single time. Moments like these keep us going and drive us to keep making music. Personally, it makes me feel like our listeners are involved in our creative process. The song is theirs as much as it is ours and it's truly beyond gratifying.
What is your most cherished moment as a band?
Sara: To be completely honest, my cherished moments with the band are numerous. One, in particular, comes to mind dating back to the summer of 2018, when we released Before I Leave and shared the stage together, along with 300 attendees. The crowd consisted of family, friends, and genuine Waynick listeners whom we met that night. I will never forget how emotional it was for all of us. Sharing our baby with the world.
Joe: For me, it was about a year after we released "Carolina". It got picked up by a few local radio stations. At some point, one of the stations was playing it 3-4 times a day. I remember driving back home and I suddenly recognized the drums at the beginning of "Carolina". I initially thought it was my playlist playing and then I realized it was a local radio station. I couldn't believe it, I was freaking out. There's something magical about having your song randomly pop up on the radio.
 As a Lebanese band, what is your perspective on the diversity that the country has to offer musically-speaking?
Joe:  There's a hell lot of talent in this country. For example, even during quarantine, seeing the variety of local artists taking part in Beirut Jam Sessions' InstaFest by performing online has been so refreshing. So many artists we were discovering for the first time. But unfortunately, there's a clear lack of physical spaces and platforms where these artists can meet, perform, and collaborate. It's really sad because there's so much this country has to offer if it had the proper infrastructure. 
https://www.youtube.com/watch?v=N_qIC3GfLX8
Let's talk more about your new song and video for "Glasshouse". In the video, you are wearing colorful shirts while rocking the best poker face I've ever seen, with fun tunes and very serious lyrics. Are the contradictions there on purpose? If so, what is the reason behind them?
Malek: There's definitely a contrast between the lyrics and what could be considered an 'upbeat' musical arrangement. I think the spatial idea of a glasshouse is the link between them. Our music video director Laudy Issa wanted to showcase that contradiction in the artistic direction of the video so we can also see that clash between outfits and facial expressions. The purpose was to tell a story. It's about fighting an internal dilemma and breaking free of, well, our glasshouse.
The song "Glasshouse" is very relatable, especially in times like these. The lyrics are super expressive and carry a certain depth. Do you think we are stuck, in a way, and can't really run away from ourselves or even change who we are?
Joe: I do think we are stuck, yes. From a very young age, we're thrown into these boxes and told how to behave, what to think, who to be. I think for a lot of us, especially here in Beirut, it's a long and painful process to deconstruct these learned behaviors. With the revolution in October, and then the Covid-19 pandemic, it has become even clearer that running away is no longer an option. It's really a matter of perspective and facing that wake-up call, whether on a personal or national level. That's what "Glasshouse" is really about.