Stavroz have been rising in the past few years as one of the very few full live bands with a dance music approach. Their sound is a fusion of electronic, indie, folk and world sounds.  If you've caught any of their shows, you've already witnessed the intricate simplicity with which they perform. They've recently released an EP on Viken Arman's imprint 'Denature Records' titled 'Kasambila'. The EP tingles the mind as much as it engages the feet: a dance record full emotive sonic expressions, immersive soundscapes and ecstatic rhythms. It's safe to say that you've never heard anything that comes close to it, it's a sound unique to this band. Before their performance at the divine intervention being dubbed 'Gardens of Babylon: The Monestary', we caught the boys for a quick chat and their responses were as off-guard as their music.
I've heard people call you the Pink Floyd of the new generation. I've literally heard wows and gasps from people during your Cercle performance. Your sound is so familiar and cozy yet inventive and unprecedented. Can you tell us mroe about the inner workings of the group that brought us this very specific yet broad brand of sound?
I guess it's the synergy of 4 people with different musical backgrounds trying to find some common grounds. Two of the team share a background in electronic music, but all of us combined allows us to tap into world/folk music, indie rock, to even fanfare music and performances. Put us in one room and after enough time has passed, some good things start to come out and workflows get established.
Your energy as a group is infectious, it's magical in its simplicity yet deep and dreamy in the emotions evoked. Where do you draw your inspiration from when you compose or jam together?
We're constantly trying to figure out how to create new sounds that can serve in our music. Depending on what the sound is, or how it behaves, we even let it dictate the song and don't really want to be held back by limitations (e.g. 4 to the floor rule in electronic dance music, or 4/4 measured bars).
There are certain elements that define your sounds: the muffled trumpet, the organic percussions, the muted guitars, the moving bass lines and the melancholic melodies. However, we've seen these elements used more intricately with every record. How do you think you evolved as musicians going from one record to the next?
We don't bring new music that often, which allows us to grow a lot in the time between releases. And as every music-loving person, your personal taste tends to float from genre to genre. When we get triggered by new music, we automatically get inspired by it, driving us to figure out how it works and implement it in our own workflow.
How did the band come together, and how did you achieve the flawless synchronicity you play with?
IJsbrand, Maxim and myself (Gert) met at college. IJsbrand and myself were studying audio engineering, Maxim was a student in guitar classes. Stavroz originally started as a DJ duo, but our music quickly featured original recordings from several musicians. The only logical conclusion in our mind was to set up a live show, at which point we expanded to a band, turning to Maxim, who was already a regular guest in our recording sessions, and multi-instrumentalist Pieter. The flawless synchronicity is thanks to some technical feats and proper monitoring, but first and foremost, musicians with lots of stage experience.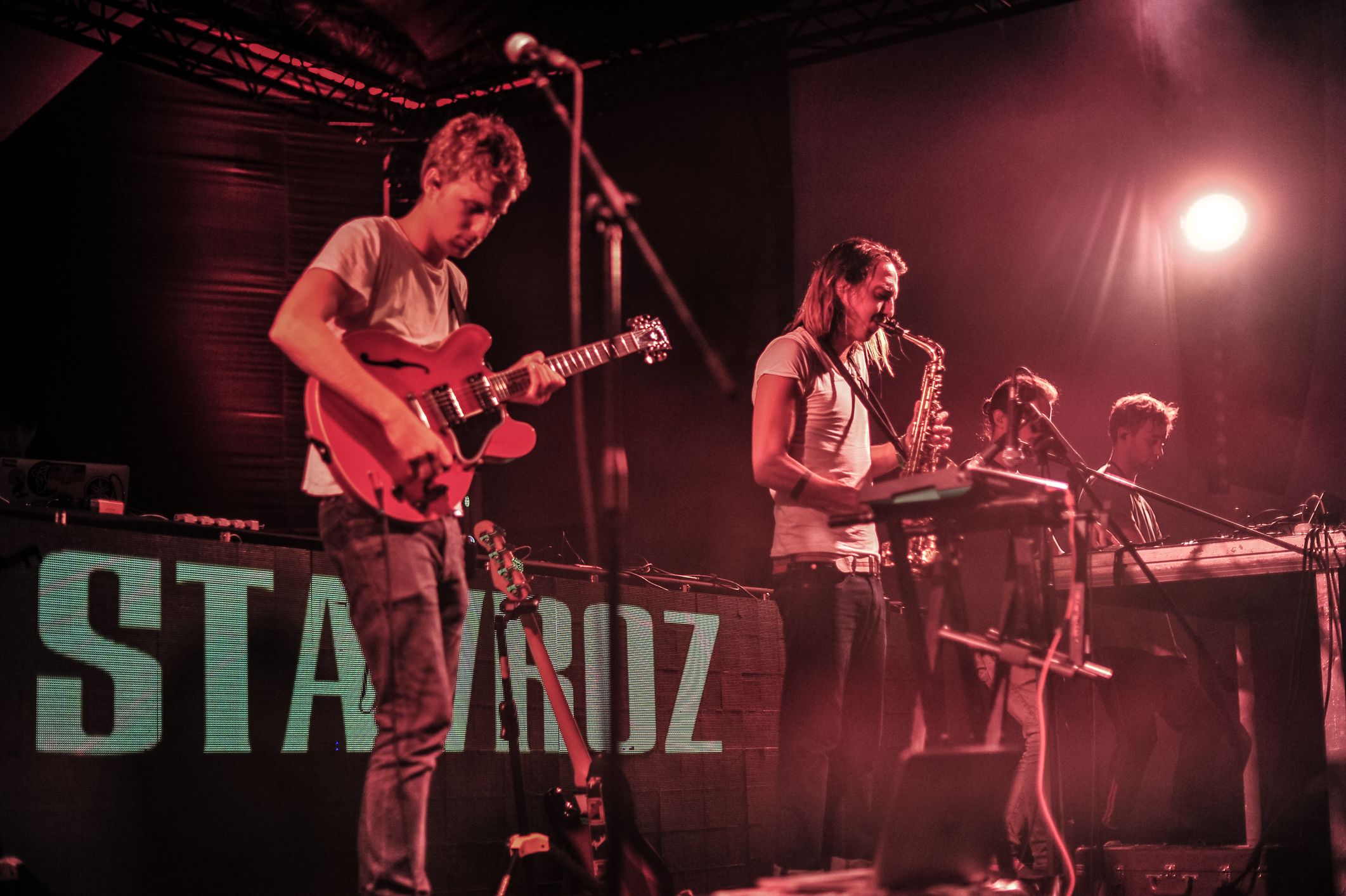 Which artists inspired you along your music journey to get here. Electronic or not.
Paul Simon, Pink Floyd, Daniel Norgren, Radiohead, Trentemoller, Booka Shade (back in the day), Stimming, Daft Punk, Ricardo Villalobos, Amon Tobin, Dr Dre, The Knife, Robag Wruhme, …
If you had to define your music to deaf man, how would you phrase it?
l.:.l.:.l.:.l.:.l.:.l.:.l.:.l.:.l.:.l.:.l.:.l.:.l.:.l.:.l.:.l.:.l.:.l.:.l.:.l.:.l.:.l.:.l.:.l.:.l.:.l.:.l.:.l.:.l.:.l.:.l.:.l.:.l
l_____________/"===="\______________/"==**==**"\_____________l
"""""""""""""""""""""""""""""""""""""""""""""""""""""""""""""""""""""""""""""""""""""
Tell us a bit about your creative workflow in the studio when composing and recording the music.
Some songs originate when all 4 of us are recording together, other songs might originate on just one laptop with one or 2 persons working on it. A couple of our more recent songs also get created when we're on tour, killing time on laptops that have almost nothing on them except a DAW. When we're back home, we try to find some days to get together and work some more on the tracks until they're done, or they just live forever on the hard drive. All of us have our own way of creating music, generating a bunch of information all the time, but also allowing us to learn from one another. We try to reach a general consensus on what to use and what not. This proved to be hard at times, but it's also how our heads get pointed in the same direction, little by little.
Tell us a bit about the new EP on Denature Records. Why did you pick Viken's label, and what do you think this record holds within its grooves?
Viken and us have been rising these past years at a similar pace, we've always been in touch, meeting each other more than we'd see our parents at some points in time, sharing the stage, etc. We also share common musical ideas, so it was only a matter of time before a record would end up with Viken.
We tend to approach an EP like a tiny concept album. It's mostly just four or five tracks, preferably different in style, but still Stavroz in nature. That's also the way we did it for the Kasambila EP on Denature. Hopefully the record teases the brain as much as it teases the legs.
The Gardens of Babylon is coming up, and the excitement for your performance there is building. What do you think of the Gardens vibe, and what are your expectations of that performance?
The gardens grew at a very fast pace, props to the team for their outstanding work they do for the crowd as well as for the artists and crew. Last time we played The Gardens at Bloemendaal, the crowd was insanely responsive and in an utterly good mood. On stage, we pick up on that and it automatically changes our experience and gives us confidence to do things that we haven't tried live before. 
Your formation obviously made a dent in the history of electronic music, you changed something deep and introduced many new elements to the mix. What's your vision for the future, how would you take all of this even one more step forward?
It'll depend on what kind of music inspires us in the future and how we evolve personally. There's no specific plan of action, but there are rough sketches of what's going to happen in the (not too distant) future. We'll keep bringing out music, but how it will sound is also a mystery to us. On a side note: we weren't aware of any damages to the history of electronic music though… Hopefully it bounces back soon!
Click on the album cover below to buy 'Stavroz – Kasambila [Denature Records]'.