Emerging from Marseille, Kid Francescoli is one exquisite manifestation of the French electronic scene. Merging synthetic sounds with traces of indie folk, the project has been making headlines ever since its inception. We sat with Kid on the eve of his gig in Beirut (organized by Light FM) to discuss everything from the groovy music to Julia's enthralling vocals. Here's how it went:
1.  Two cities seem to have played a huge part in your journey, New York and Marseille. Can you please tell us about the influence of each city on your music?
Marseille is where I live. I love the weather here, I share a studio with my friends in the city center and the sea is never far. I guess it's enough to give me a nice atmosphere to create music, to feel lucky to live here and to go to work everyday.
New York is where most of my fantasies (some that have come true) have been. It's the city of music and movies. I love the fact that you feel like a movie protagonist when you walk its streets, and there so many different, crazy, unique people…the whole place was really inspiring.
2. How has your sound changed from your previous group projects, passing through the first Kid Francescoli album and reaching Play Me Again?
It has changed with the music that I've listened to and loved throughout the years. At first it was almost only indie-pop and some trip-hop. Then I opened up to other genres and started enjoying hip-hop, electronic music or soundtracks which have all clearly influenced my albums. I try to mix up the music that I love when I get into the studio.
3. You're continuously experimenting with genres. What grounds are you looking to explore next?
I don't know yet. I'm waiting to be surprised too. I've been listening to a lot of Chet Baker lately but I don't think I could be influenced by this. Jazz and classical music come from another galaxy to me.
4. Is cinema as present in this album as it was in the previous one?
Cinema is always in there. It has been that way since the very beginning. With the soundtracks obviously but also with some memorable moments. It could be a dialogue or a character or an end or the way a sequence is shot. I always try to make images come to my mind when I write music.
5. If you had to transform one of your tracks into a film soundtrack. Which track would you choose and which film would it be for?
Maybe "Italia 90" from "With Julia". I think it's the most soundtracky track. I don't know for which movie, but I would love it to be used for the ending credits of a film, because that's what I had in mind when I chose its place in the track-list: as the ending credits of the album.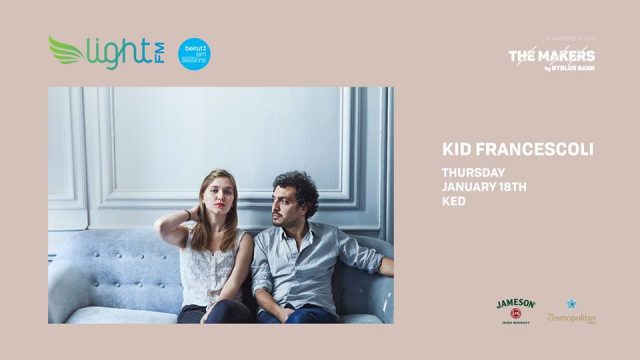 6. Why Kid Francescoli without mentioning Julia?
Julia was mentioned in the album before "Play Me Again": "With Julia". It was my way to introduce her and to explain that we wrote the songs together, that I wrote this album "with" her. We worked as a duo on "Play Me Again" as well.
7. How do you sustain your artistic relationship with Julia? What are the main differences between working with a group and working solo?
By exchanging ideas and thoughts about music and lyrics all the time on the road. "Have you listened to this?", "We could write a song about that?" etc. That's a permanent and very inspiring dialogue. I like both. As I said I like to exchange ideas but I also love it when I'm by myself in the studio and then the magic happens after hours of nothing. I can't really write some stuff with someone next to me, it's too intimate.
8. How does having your sole name affect the end product?
It makes me have the final cut. And I think it's important to have one person in charge of it.
9. Can you list the 5 albums that most shaped you as an artist or even as a person?
"Premiers Symptomes" by Air
"Endtroducing" by Dj Shadow
"The Sophtware Slump" by Grandaddy
"Nancy & Lee" by Nancy Sinatra & Lee Hazlewood
"Le Colonne Sonore Originali Dei Film Di Sergio Leone" by Ennio Morricone (that's a compilation)
10. Is it your first time in Beirut? Besides the gig, what are your plans while you're in town?
Yes! We don't know the city at all, it makes us even more excited to be there and discover it for ourselves!