Elephant Stone, the psych-pop creation of Rishi Dhir along with long-time collaborators Miles Dupire (drums) and Robbie MacArthur (guitar), and touring member Jason Kent (keys/guitar), have released six critically-acclaimed albums. The last one, Hollow, is out since February 14, 2020. The Montreal-based band has received prestigious nominations (Polaris Music Prize) and praises (from NPR, Brooklyn Vegan and more). As a highly-regarded sitar player, Dhir has also collaborated with indie-rock icons (Beck) and legendary cult bands (The Brian Jonestown Massacre).
Hollow was released on February 14, what changed compared to the previous albums? And what can we expect from the live shows?
Well, I guess the major change is that this it's a pretty overt concept album detailing to the plundering of our resources by the elite/rich. However, our live performance is less dark and more about bringing the good psych/sitar vibes.
The first singles of Hollow came out with animated videos. What is the process behind it (and were you personally involved in the making of?)
Before starting the album, I wrote a storyline detailing the thematic arch that would connect each song. I then searched high and low for animators that I feel could express visually what I tried to convey musically. I gave them full reign for each respective video.
What is it like to be an english-speaking band from Montreal? Did the french part of the city influence you in any way?
Definitely… I guess it's more of an identity crisis and not really feeling like you fit in anywhere. I guess that kind of isolationism influences my music by trying to find a way to unite us all. 
If you could choose a non-psychedelic band/act, and add a 'sitar twist' to it, which band would it be?
Haha, I don't think any band really needs a sitar twist. I mean, it's too easy to fall into that kitsch area… 
I first saw you with Acid House Ragas, is there a future to the band? Any other parallel project you are working on? 
Yes, I'm planning on returning to AHR in a few months… Having too much fun with ES right now 🙂 I'm also gonna start working with my friends on a 2nd MIEN album.
Your daughter sings on some songs in the album: how would you name your future band with your kids?
The Dhirs!
What is the festival/venue you would like to perform at the most? 
Love the Osheaga catering!! 
Given the chance, would you perform in the Middle-East? Any country you are specifically attracted to?
Palestine.
Any last word for your fans from this region?
Love through music and music through love.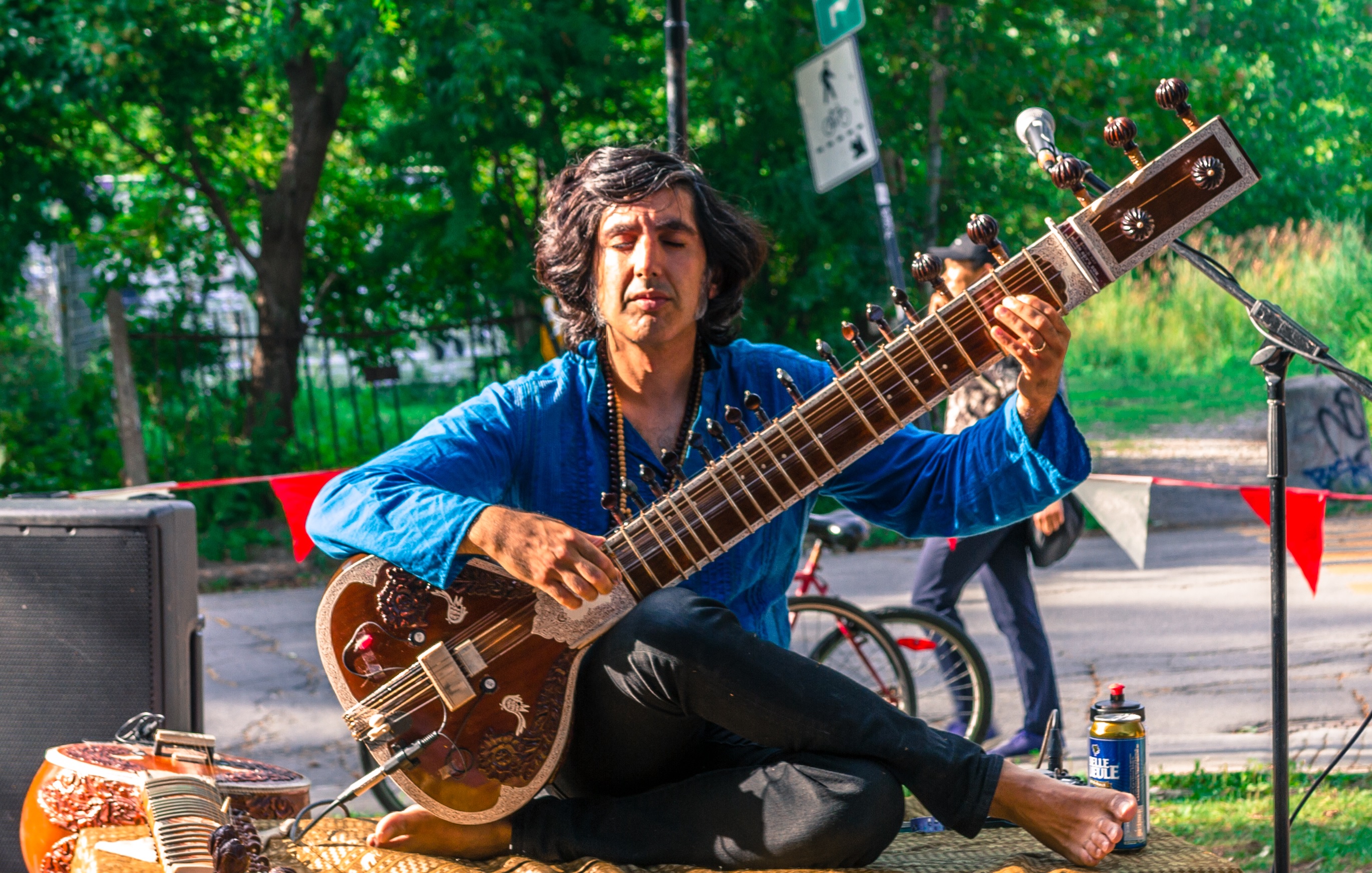 For more information, visit Elephant Stone website.