Progressive Rock duo Dreaming Madmen are releasing their long-awaited debut album "Ashes of a Diary" worldwide on September 14th, 2019. Formed by Lebanese-American brothers Mathew & Christopher Abou Jaoude, they've put in the work and experience from years of touring the US with Brick Floyd into an original concept album. Dreaming Madmen will be performing "Ashes of a Diary" in its entirety at The Palace Beirut on Sep 14th with a full laser & light show, alongside the brothers' other family project, Brick Floyd – an immersive Pink Floyd tribute band.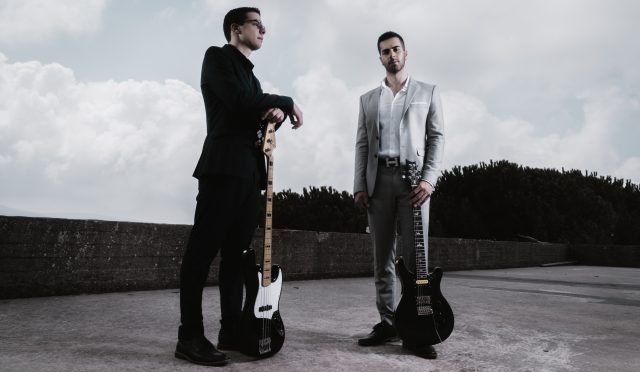 Being a Lebanese rock band can be a rollercoaster ride. Tell us about the road from being Brick Floyd to becoming Dreaming Maden. What are some obstacles you faced and how would you describe your overall journey?
Mathew & Christopher: Brick Floyd started out by accident, actually. We went from jamming a few Floyd tunes in our music room at home to touring 40+ shows in multiple states in the US for two consecutive years; not to mention the 40+ shows all over Lebanon since 2014. The biggest challenge was figuring out how this whole thing, being an independent band, works. We're still trying to figure it out. But, we're a family and that was what made us a powerhouse of hard work and chemistry.
Mathew: Dreaming Madmen is what I've been dreaming (ha) of starting for a few years now, it's just taken a lot of preparations to launch a brand-new name and identity. We're perfectionists, so we didn't want to rush into recording an album. We saved up, worked on the songs over and over again (there were probably about 4 or 5 different versions of the track list) and just poured our blood, sweat and tears into recording our debut album now. As for Brick Floyd, it'll always be there. I wouldn't mind doing an annual Brick Floyd concert in Lebanon forever. We might even tour again, who knows?
Brothers fight, and that's without building a career together. How does being brothers affect your work and your band?
Mathew & Christopher: Hah! We definitely have our moments where we'll battle it out, but we've been playing music together for over 15 years and have been doing it on a professional level for about 6. We've traveled to many places around the world and have been on so many adventures together, so we can never end the day without making up. Over the years, we've also developed this unbelievable chemistry and telepathy. We know each other musically so well that it's actually scary at times. We always think of similar ideas, and have sort of developed our own music language with which we communicate.
Mathew: What still blows my mind is that Chris always knows what note I'm going to play next when I'm soloing, you'll notice that a lot in our live shows.
Christopher: And vice versa!
it felt like we had reached a new milestone in our careers.
Both of you started playing music at a very young age. Tell us a bit about that. What made you start, and how did you fall in love with rock music?
Mathew: Our dad is a drummer, and our grandfather used to play over 12 instruments, so we were encouraged to start our musical journey at a young age. I started piano lessons at the age of 7, and I remember watching 'School of Rock' for the first time and hearing AC/DC's 'Back in Black' at the start of the film. I looked at my dad and told him "I want to learn to play the guitar" and just like that, I made the switch and it all started from there.
I got more into the beautiful world of progressive rock years later when we first discovered our love for Pink Floyd, and that opened a whole new realm for me.
Christopher: The first instrument I ever learned was the saxophone, at age 9. Just like Mathew, repeated viewings (and a small obsession) with Jack Black's 'School Of Rock' as a young teenager drove me to pick up the bass guitar and drums, and then the keyboards, eventually fully embracing and adoring all styles and elements of rock music. Pink Floyd was the band that drew me to view music as an art form, and led me to listen to albums as a conceptual whole, rather than just a group of tracks randomly inserted onto a record.
You've been touring under the name of Brick Floyd for a few years now. How do you describe your experiences in different countries, playing Pink Floyd covers to different crowds? Tell us about one unforgettable concert moment.
Mathew: Playing music around the world from our favorite band of all time is a magical feeling. There's so much excitement and chemistry on stage, and the light show that Chris has designed is outstanding, people love it!
One of the most memorable shows for me would be our show at Metro Al Madina in 2015. It was our homecoming show in Lebanon after our first US tour. The place was packed with so many familiar faces and new ones, and being only 17 at the time, it felt like we had reached a new milestone in our careers.
Christopher: My favorite concert moment would have to be performing 'Another Brick In The Wall' at AUB Outdoors 2015. The energy at the festival was absolutely electrifying, and having thousands of college students scream and chant "We don't need no education" on a university campus was a lot of fun (and incredibly ironic).
Mathew and I also performed a concert back in November with Scott Page (saxophone) and Machan Taylor (backup vocals), who were both touring members with Pink Floyd on their Momentary Lapse of Reason tour in the late 80's. Sharing the stage with them has been one of the greatest honors of my professional life, and an experience we'll never forget.
You are releasing your first ever album "Ashes of a Diary" on the 14th of September at The Palace Beirut. Congratulations! Tell us about the concept. What was your inspiration and what message are you trying to convey?
Mathew: Thanks! I came up with the concept of the album after writing the title track in the summer of 2015. I had a little black book (yes, as a reference to Pink Floyd's "Nobody Home") from the age of 16 where I wrote all my poems & lyrics. The concept originally was about this elderly man who finds his journal right before attempting suicide and is forced to relive every memory. Each page is a memory, and whenever he revisits it, the page burns.
It's still very much revolved around that, but over the course of the past few years, I wrote a lot of the lyrics from personal experiences. This definitely made the album much more personal; and it's a very emotional album on that note, I'll be honest about that; especially 'Final Page' to which I wrote the music and Chris wrote most of the lyrics.
Christopher: There isn't a deep message we're trying to convey or put out, but we definitely feel that listeners will be able to relate to the music and lyrics on a personal level, as the album's narrative themes are rooted in universal emotions of love, regret, anger, hatred…
Our music may be quite melancholic, but I believe that making an emotional connection while listening to a record can be an amazingly empathetic and uplifting experience.
Tell us about the recording process. What were some challenges you had to overcome? Any funny stories worth sharing?
Mathew: The recording process was a lot of fun, especially working with such a great entourage. My engineer Russell Tanner was unbelievably supportive and invested in the project, which I am forever grateful for. My drummer Ian Geyer and documentary videographer Annelise Smithmier are also part of my dream team. But there were definitely some stressful times, considering the magnitude of this project, with some of the songs having over 80 tracks, all of which had to be recorded and mixed on quite a tight schedule.
On top of that, Chris and I being half a world away while working on this album didn't make things easier. We'd have phone calls that sometimes lasted up to 8 hours; writing lyrics, discussing instrumental sections, planning our next studio sessions. We had a lot of unfinished material that we kept trying to wrap our heads around and finish, which brings me to a funny story: The last verse on 'Behind My Wall' needed a few more lines that we just couldn't finalize and I remember writing down the lyrics as I was getting dressed to go the studio and texting Chris the ideas to get his approval. Those lines made it on the album and I think they're some of my favorites for that reason.
Obviously, Pink Floyd is your greatest inspiration. Can you name a few other bands/artists that have influenced each of you?
Mathew: Pink Floyd is definitely my biggest inspiration, and not just when writing music, but their combined genius has shaped me as a writer, musician and producer as well. Pink Floyd is part of my DNA now. Some other artists that have had a huge influence are Porcupine Tree, The Beatles, Rush, King Crimson, Genesis, Yes, Dream Theater, just to name a few. If I had to name individual musicians that shaped my playing and writing, I'd say David Gilmour, Steven Wilson, Guthrie Govan, John Petrucci, and Alex Lifeson are in my top 5.
Christopher: Pink Floyd is the obvious huge inspiration, as a whole, but I also have many different individual musicians who have influenced me and my playing/singing style greatly. Most notable are Paul McCartney, Geddy Lee, John Paul Jones, Marvin Gaye, Richard Wright, Tony Banks, Colin Greenwood, Bob Dylan and Roger Waters (of course!)