Thor Rixon reintroduces electronic music in a fresh tone that's light on the ears and stimulating enough to groove to with his latest album Michele. We still can't believe that this is Thor's first electronic album, yet the 'feel good' piece of work was released on Berlin's power label Get Physical. Press play and get a feel of what we're talking about. Get to know why he filmed his music video in a landfill, how artists like Stimming are intrigued, to see the full live act Thor used to create Michele and to learn about how he plans to take it on the road.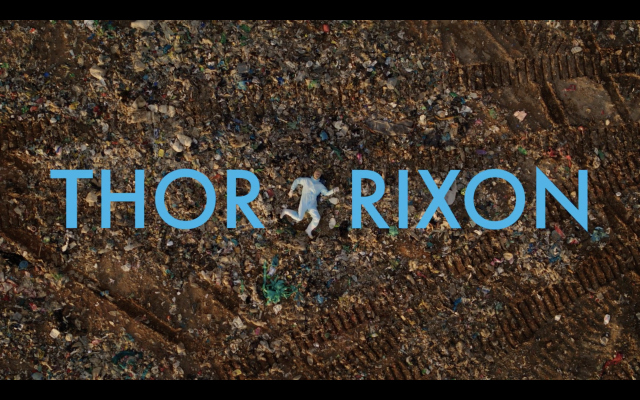 Project Revolver: Your new album, Michele, is inspired and pretty much directed by your mom. Walk us through this process – the experiences you had during recording, your relationship with your mom then and now, mood board for the album,…
Thor Rixon: My mum and I are very tight. She pretty much brought my brother and I up on her own. She's been pushing and guiding me into the life that I now live. She could see that I had this connection with music at an early age, so she made it possible for me to explore music and to find my place within it. I would always be set on my ideas and vision, then my mum would say "why don't you do this" and at first I would disagree, but soon I would realize that she was right (as all mothers are). My mom has always been a fan of dance music. Since I started writing and performing in a solo capacity my mom always wanted me to write music that would make people move. I disagreed in the beginning but the more and more I tried writing dance music the more I enjoyed it. It is now pretty much the only style of music I write and perform at the moment.
The best way I can describe Michele is…Depeche Mode meets Flying Lotus dancing together in a disco. Their friends Thom Yorke and Kylie Minogue join the party with a mysterious cocktail in hand and attitude in large. Tell us what this album is to you.
Wow, that is a quite a crew! haha. Can I use that description? 🙂 Sonically, I wanted to explore a plethora of dance styles that spoke to me, and in doing so embellish on my understanding of them. A lot of electronic dance music usually errs on the side minimalism which I admire, but I wanted to incorporate more layers and texture into my work. I struggle to create works of a minimal nature to be honest. It is something I'm working on and wish to focus on going forward. There is a maturity and form of genius in minimalism. In saying this, I do think that this album is my most minimal work to date. The songs, however, are still full with lots going on, but if compared to my previous albums it definitely stands out as a much more stripped back body of work I think.
What's your favorite track on the album?
I think it would have to be 'Old Strandfontein Road' probably due to the fact that it was the one track that took the longest to complete. I started writing it over 2 years ago when Helen, one of my old housemates, brought an old piano into our house. I started tinkering with it one day around and got this little chord progression going which I then recorded. This formed the basis of the track. I spent the next 2 years adding, taking away, second guessing, scrapping everything and building it up again. A love/hate relationship for sure.
What are some of the key musical instruments used throughout the album? Which do you play?
Drums and percussion play the major role on the record. A lot of the melodic content on the album plays a very percussive part in the production. Everything is built around the groove and beat. Almost everything is side-chained to the kick even. I can play a few instruments, albeit not very well. In school I went to lessons for guitar as my first instrument, with teaching myself drums as the 2nd instrument. I later picked up the trumpet and took a course in electronic music production
What held you back from tapping into dance music in the first place? If not for the push, which direction were you heading?
I just wasn't very drawn towards dance music back then for some reason. I'm not sure why to be honest. Upon reflection I think I was headed in the direction of a genre known as 'freak folk.' The first time I left South Africa in 2015 I visited Berlin and it opened my world to dance music and electronic music on a grand scale. I heard music and sounds that ignited a fire in me during this trip. From this point I started delving deeper into electronic music and I have been going back every year since, getting deeper and deeper every time.
Electronic and house are interchangeable genres that have blurred over the years. Where do you see yourself in between the different styles? I'm not very clued up with genres and what defines them. I sort of see myself dipping in and out of house and techno while remaining in the larger electronic classification. It's all grey area and very blurry. I think this is always a tricky question for artists for some reason. Maybe we are too close to the music to take step back and observe it objectively. Strange.
Our End music video is shot in subject with landfills and trash, our polluted oceans and climate change out of control and it seems as though our world is coming to an end. What strong beliefs, causes or global issues do you support that you incorporate into your music? What's an issue in South Africa that's concerning you?
I wanted to produce a visual that amplified the message of the song, which is focused around the subject of waste culture and our effects on the world. Rob, the director, and I scouted a few giant rubbish dumps on the outskirts of Cape Town and finally found Vissershok Landfill which is one of Cape Town's biggest landfills. It felt like the end of the world just being there at that dumpsite. This theme runs throughout the album as it's something I wanted to drive home from beginning to end. My thinking is that we won't be able to fix many other issues in the world if there isn't a world left. Scary times but I'm always hopeful that we can pull together and do this.
In terms of issues in South Africa, there are many, a lot of which are centered around race. Spacial Apartheid is still very much a thing, especially in Cape Town where the city planning has created such segregation amongst the many peoples of the greater Cape Town area. South Africa is very complex.
Looks like your aesthetics change with your music. How would you describe your style? I feel a bit of George Michael at the moment.
Oh wow, that's a huge compliment, thank you. We love George Michael. I never actually realised that that was what I was doing but it turns out you are spot on. My appearance does seem mirror the content of my musical works in some way.
Stimming and Ninze, strong artists in their respective genres, are remixing you. How did that come to fruition?
Ninze is a friend who I met in South Africa when he was touring the country. I asked him if he would be interested in remixing one of the singles from the album and he was keen. Floyd Lavine remixed the same single and is a good friend from South Africa who currently lives in Berlin. Stimming was approached by Get Physical and is one of my favourite producers. It was a dream to have him involved in the project.
What's your live performance setup like?
I've been building and working on a new live show for the past few months which consists of basically all my gear; Elektron Octatrack, Roland TR-09, Roland SE-02, Novation Bass Station 2, Korg Minilogue & my Modular Synthesizer. It is a completely hardware based performance with no use of computer whatsoever, which is something I've wanted to do for years. I also have a band based performance where I am joined on stage by session musicians where we perform the more 'song' based music I write. Finally, I have a live set where I have broken all my productions into their stems and loops and perform them on top of each other using Ableton and the Akai APC40 MK2.
What are your show plans for the future, with the album and as you grow your name?
I will be touring in and around South Africa over the next few months, then I will be heading to Europe early next year with hopefully a tour around USA and Asia late 2019. I plan to keep working on the live shows and perfecting them while writing new work that will hopefully aid in making the world a better place for who ever comes into contact with it.