There's nothing humdrum about GoGo Penguin. One of the most innovative music projects in the contemporary jazz scene, is Manchester-based trio made up of Chris Illingworth (piano), Grant Russell (double bass) and Rob Turner (drums). GoGo Penguin brings jazz and electronica together in compelling compositions, using acoustic instrumentation with a twist of analogue tech to evoke futuristic sounds and melodies as eclectic as their name. They just released their spectacular latest album 'A Humdrum Star' on Blue Note Records and it brings forth soundscapes never heard before by a human ear.
We reached the band's pianist, Chris Illingworth, to find out more about the new album, their guilty pleasures and to contemplate everything in between.
Let's start with talking about the elephant in the room, or more like the Penguin. How did that name come up and how didGoGo Penguin come to life?
It was actually a bit of a last minute decision, we had been booked to play a gig by a mate of ours who ran a night in Manchester and at that point we hadn't bothered to think of a name. There was this thing in the room where we used to rehearse that looked like a penguin – it was a prop that had been used for an opera made of foam and papier-mâché – so we kind of took the name from there. That was about 6 years ago when we started the band. The three of us have known each other for ages and met playing in different bands round Manchester. We'd played in different combinations before but never the three of us together until GoGo Penguin formed. 
Your music fuses electronica moods with jazz instrumentation. How do you achieve such a contradicting sound and yet have it flow seamlessly and graceful? 
Right from the start when we begin developing a track we tend to have a pretty clear idea of where we're going musically and what we're trying to say; this isn't usually something we talk explicitly about, it's just something we all seem to pick up on and subconsciously agree upon. In developing the track further we then just use whatever sounds, inspirations, techniques and ideas we need. The inspiration for each track can come from anywhere, not just music but literature, dreams, places we've visited and experiences we've had, and we use whatever is necessary to say what we want to say with our music. And the instrumentation we use, it's basically that those are the instruments that we each play, that's it. There's so much you can do with this combination and, whilst it is a common line-up in a lot of jazz music, it's perfect for expressing tons of ideas and sounds.
I've always been intrigued by your videos and the powerful aesthetic statement being produced. Playing on the nuances between bold and ethereal, evoking the same contrast that permeates your music.. And always with same director: Antony Barkworth-Knight. If you can tell us how this relationship came to life. 
We met Antony about 5 years ago through a mutual friend. It was back when we were beginning to work on v2.0 but we'd had this idea for a video to accompany Last Words which featured on our first albumFanfares and wanted to find someone who could bring the idea to life. We were put in touch with Antony, he immediately got where we were coming from and has become a close friend and regular collaborator. He's great at being able to take our collective thoughts and underlying ideas behind the music but then also bring his own personality, imagination and interpretation to each track and video.
It's clear that the musical background is diverse and we can sense the influence of many different artists and genres in your music, but what is the common denominator? What are the stories you are interested in telling?
When we came together and formed GoGo Penguin we could just tell that it was right and that this was the band we had each wanted for years, from way back even before we knew each other. Whilst we're all different and individual and have come from separate and varied backgrounds we seemed to be working towards the same goal but I'm not sure this is something we could put into words. As for the stories we want to tell with our music, that changes over time. Each album is a snapshot of who we are at that moment. We're constantly developing, both as individuals and as a band, and we want to take our time enjoying this journey. Hopefully we'll have a long future and can keep exploring and experimenting.
You've been extracting from your piano, double bass and drums instruments an emotionally rich palate for the listener while stacking up ostinatos. Does this stripped combination keep the focus on the elaborate melodies or will we see you switch or at least incorporate actual electronic instrumentation in your act?
Anything is possible down the line and we don't rule anything out but, as I said above, we want to take our time enjoying the journey that we're on musically and there are things we could do (perhaps like adding a synth or electric bass) that just feel like we're jumping many steps ahead and could instead take our time exploring what we can do with the instruments we have at the moment. On the latest album we've experimented more with some electronic effects on the piano but at the core it's still the acoustic piano sound that we want to keep. It's a lot of fun trying to interpret and emulate electronic sounds and techniques with acoustic instruments and I think this is a big part of what makes us sound the way we do. Ultimately we use what we feel we need to express what we're trying to say with our music, so if we felt that we needed electronic instrumentation to achieve that then I'm sure that's what we would do but at the moment there are still many things yet to find with the instruments we have.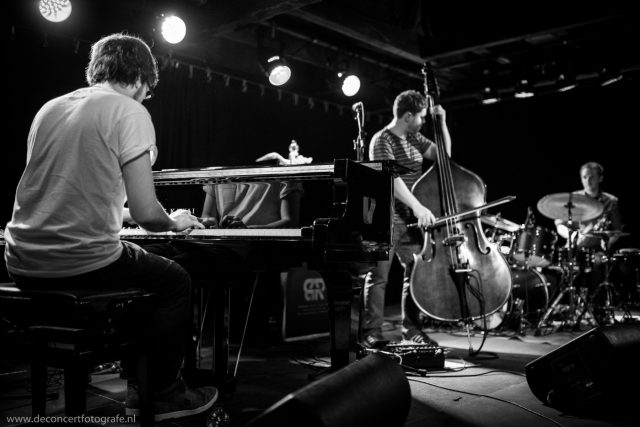 You've been touring with your own score to Godfrey Reggio's Koyaanisqatsi and sort of taking responsibility of the narration. How would you describe your approach to this cult film? What are the challenges of live soundtracking?
Working with a film was a very different experience for us in many ways. Usually when we start sketching and writing tracks we have no structures or anything that dictates the form of the music whereas with Koyaanisqatsi it was essential to work closely with the visuals and write in such a way that the music reflects the film and our interpretation of the imagery. Also a lot of the score is performed to click which is something we never do in our usual live gigs. There are sections which are open and improvised without click track but even these use visual cues to shape the accompanying music. The main challenge in performing the score though is the amount of stamina and concentration that it requires. The whole film is around 1 hour 20 minutes and the performance is continuous with no break until the end. It's a lot of work to play but great fun and it was an excellent project to work on.
Much like Carl Sagan's Cosmos that you quote in your album title, your sound makes the listener feel connected with something grander than oneself. Your sound is larger than three people. Is that your signature?
It's definitely something we're very conscious of, both in the way we write and the way we perform. There is no leader in GoGo Penguin, we always write together and it's important that all of the parts fit together and move as a whole, as a unit. The fact that we've each come from different musical backgrounds means that each of us can bring our own individuality and something very different to the music we write and it's this combination which makes GoGo Penguin sound the way it does. The quote from Carl Sagan not only captured this idea but also perfectly reflected the concept of dual perspectives, the idea that two different people might perceive or interpret the same situation in very different ways. Everything can influence this; your background, culture, opinions, experiences – it's something that we kept in mind through the whole process of making this latest album.
You've signed to Blue Note. What did it mean to sign to such an iconic jazz label even though your sound is not exactly what one would expect from Blue Note. How did that happen?
It was a couple of years ago when we played at a festival in Hamburg called Überjazz. A few days before the gig our manager told us that Don Was and Nico Pflug from the label were coming to see us, we met up after the gig for a few beers and a chat and within a week or so there was an offer on the table for us to sign to Blue Note. It's still kind of crazy to think that we're signed to a label with a history and reputation like Blue Note but it's great to know that they see something unique in our music that fits with their ethos. It seems like they're excited about what we can bring to the table and are always encouraging us to experiment and just make the music we want to make.
What do you listen to on a normal day and what are your sonic guilty pleasures. Would you recommend a few albums? 
We're on the road a lot, somewhere different pretty much every day, so I'm not sure there's really a normal day. We each have our own personal tastes and preferences and what we listen to will change from time to time. Me personally, I've been listening a lot again to Underworld, particularly Beaucoup Fish and Second Toughest In The Infants. I've been listening to these guys since I was 11 and still love their music. Aside from that I'm really enjoying async by Ryuchi Sakamoto, Two/Three by Dabrye and An Introduction To Failure by Daudi Matsiko. There's also a really interesting track I found earlier today calledCome Let Us by Mark Pritchard, I'm looking forward to hearing the rest of the album when it comes out later this month.
A Humdrum Star was released this year. It is still resonating with crowds around the world. What does the future hold for you?
We have a really busy year of touring ahead of us but further than that I'm not sure, we'll just take it as it comes. It's great to see the positive response our music is getting and it means so much to us that we are able to travel, perform and connect with people around the world, hopefully there will be plenty more of that to come.