Fadi Tabbal is a Lebanese musician, producer and sound engineer. His music is very hard to categorize as he has shown great talent in maneuvering a wide range of genres. There's word on the street that he's the hardest-working man in Lebanon's alternative music scene, and his active involvement and his many contributions to the scene complement that claim like pineapple does to pizza.
Tabbal relocated to Beirut in 2006, following studies in sound engineering in Montreal, Canada. He promptly established Tunefork Recording Studios, a specialized work-space which offers customized services including full band recordings, live sound, music production and composition. His face is probably familiar to you as he is present at most (if not all) of the local concerts, either assisting the bands he manages or performing on stage. He has worked with some of the most renowned Lebanese and International acts in today's contemporary alternative music scene, including Asil Ensemble, Kinematik, Mike Cooper, Postcards, Sharif Sehnaoui, The Wanton Bishops and Who Killed Bruce Lee, to name but a few.
Sitting on a small bench at a coffee shop snuggled in the mazy streets of Mar Mikhael, we spoke to Fadi about his solo work, the way his tracks come to life, performing live, superheroes and his plans for 2019. He even blessed us with a mixtape. Surprise surprise, not all heroes wear capes!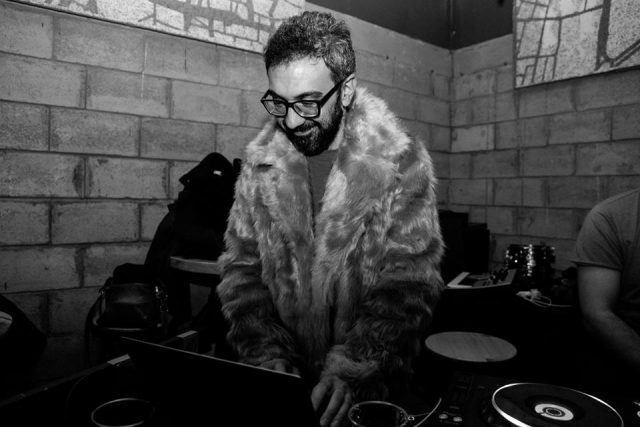 Your discography is getting bigger every year, with tracks of different genres and styles. Do you think that your identity as a musician varies depending on the setting (i.e. if you're making music alone or with a band) or is this ability to play different genre with the same skill at the heart of your identity as a musician?
I think my identity is not directly connected to the style or the genre, it's more about the way of approaching music, the hidden layer in making it. I think that whether I'm doing my solo work or I'm part of a band, I always try to make sure that there's some sort of strong emotional entity in the making and I try hard to push the limits of sounds, arrangements and compositions. When I'm working with other bands, be it bands I play with or just produce, I have the same approach I have with my own music.
I think that if someone looks at my discography from the outside, it won't make any sense because it varies from pop to electronica to ambient to rock to dream pop to noise and grunge… I've been listening to music all my life, I'm a music fan and collector and it doesn't stop. Playing different genres is the means to achieve kind of a similar insight. The way I work and how everything is done is always the same but the color outside changes, of course.
Do you let Fadi the musician/artist interfere with Fadi the sound engineer (or vice versa)?
Sound engineer is sound engineer… I now rarely do sound engineering per se, I'm usually producing and sound engineering at the same time. I guess that as a producer, the musician does interfere; but, my motto is always the same: I think that a producer should push the strong points of the musician instead of making their music sound like you. Evidently, there will be some kind of small connection because you're there and you're human and there's a part of you that's gonna be in it.
I almost never work in the studio as a sound engineer without being a producer as well. It's different for live shows, yes; it has nothing to do with my music. This does not mean, however, that I do not let myself give comments about sounds and equipment so I guess it always interferes but it's not like my identity as a musician is always there… it's all about being able to get the best I can out of the people I'm working with.
I like to limit myself to push the maximum out of very little
Were you ever tempted to adopt a stage name instead of remaining Fadi Tabbal?
No, No, No… (laughs) I just can't… no, never. I don't know… it's just like that, I've just never really thought about it. It's just me… the fact that I do almost no publicity or marketing for myself and my work, even though it's been a while that I've been playing solo, it would be ridiculous for me to sell myself with a nickname… it's completely counter-intuitive for me.
You recently opened for Kinematik with a set I would describe as being a utopian combination of peace and conflict. I noticed this 'theme' in many if not most of your pieces. Did you mean to have those elements appear in your music? Can you tell us a bit about your background and how you build your tracks from the ground up?
Of course, most (if not all) of my solo work is based on this duality which is a lot of internal and external conflict. It's simply part of our daily routine living in Lebanon. On a more personal level, which I'm not gonna go into, it's about my inner demons; that's how I fight them…
As for how I build my tracks, it depends… most of my solo work comes from my background in and my love for drone, noise, ambient music and contemporary classical music. Technically, now I'm in a place where I try to build my tracks as almost strings of sections, mixed with a lot of concrete sounds.
…What exactly do you use?
Just guitar. My solo work only consists of electric guitar and of me processing it. All my solo albums are nothing more than just electric guitar. Since I have a studio and a big panel of stuff to use, I like to limit myself to push the maximum out of very little. I use the guitar and one rack of pedals and that's it.
…So you start experimenting with them until you come up with something you like?
No, now I'm in a phase where I know what I want to get because I have experience using all those stuff in other projects. When I start working on my solo stuff, I know exactly how I want it to sound. I experiment, of course; it's a good way to push my sonic and compositional boundaries, that's for sure; but it's not at all a game of chance.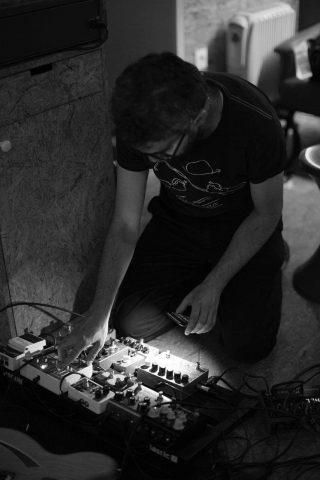 You've contributed greatly to the local scene, be it with your albums, collaborations, or within the scope of your work at Tunefork Studios. What do you consider to be your greatest achievement and why?
Everything… the fact that I'm still doing it, I guess. I started doing this in 2006, it's been 12 years now and it's getting better. The bands are getting better, I'm working closely with a lot more bands, the scene is expanding, and some of the bands I'm working with are just completely insane—which is great… So I guess the fact that there's space for me to still be able to do that is the biggest achievement.
You've performed tracks live, be it solo or with a band, but you've also tapped into the world of experimental music (one recent example being your performance at the 2018 Irtijal Festival with Anthony Sahyoun as Stress/Distress). In which setting do you feel more comfortable?
I've been playing at Irtijal since 2008 and I've been playing live for a long time. Now I feel more comfortable performing by myself. This is new for many reasons, mainly because me performing with other people means that I have more responsibilities. I have to take care of everything sound-wise and, a lot of times, arrangement-wise too; I have to be there and help out with everything… Technically, I have a lot to think about other than just enjoy playing. For my solo work, there are just two outputs and I'm only there to concentrate and be lost in the music; I do it in a way that there's no sound engineering to be done. I'm enjoying this now but if you ask me the same question in a couple of months I'll probably have a different answer.
A lot of people are delusional…
You must have been through different experiences throughout your career that  have, in one way or another, taught you a lot and helped shaped your sound. Can you tell us about one incident that has left a mark on you and your music?
They're actually albums that made me change my perception… The first one is "OK Computer" by Radiohead. It came out in 1997 when I was only 15 and when I listened to it, I was really drawn to working in sound as part of music composition. In a way, that changed my perception because I wanted to learn sound for the sake of music-making, not for the sake of being an engineer. The second one is Sufjan Stevens' album "Illinois" that came out in 2005 while I was studying sound. It helped me reshape the way I think about modern music arrangements.
These two albums are landmarks in my thinking about music and production.
What is one piece of advice you would give to up-and-coming artists/bands in Lebanon?
It's hard. Even though there's a structure going on and being built bit by bit, and despite the fact that there's more interest in music now, it's very difficult to make a living out of it so it needs perseverance and it requires everyone to have a side job and to make a lot of sacrifices. If you're willing to do all that, then just do it.
If you think that making a concert and having 300 people show up is 'making it', then you're mistaken.  It is completely non-sense because there are only 300 people in this alternative scene who might show up anyway. There's a long way to go… It's easy to feel like you made it in Lebanon but it's nothing. A lot of people are delusional… Lebanon is like an island, it's hard to build a bridge to the outside. Everything is becoming more competitive. It's not a very helpful location geographically either. If you know all that and you're still willing to do it then I think that's great.
On the bright side, I travel a lot with many people (e.g. Postcards), we play live in a lot of festivals and I'm telling you that the level of musicianship that we have here is really great. There's this misconception that anything that comes from abroad is better. We have less means and we sound great, actually.
You lead a very busy life, how do you manage to stay on track without letting your career get in the way of your personal life?
My personal life… There's very little of it because I work all the time. But in the past year I've managed to build a small but strong team at Tunefork so I guess the answer will change to that soon!
If you were to start all over again in the early days of the Beirut alternative scene, would you have done things differently?
Everybody says "yeah, I wish I did this instead of that"; but, what we have so far is good so I wouldn't change any course of action. It's always good to remember what shouldn't have been done and not re-do it but not doing them then would have brought along other problems so… No, I think what happened happened.
It's probably Batman
What is one of the best experiences you've had while performing live?
The first time I played in Paris with the Incompetents (around 2010) after years of being based in Beirut. There's a big part of concerts in Lebanon that's about social gathering which we do not find over there. If people pay to go see a concert, they want to see a concert—which is the logical thing to do—and then they can socialize outside once the concert is done. When I experienced playing live for the first time in front of a different and more attentive crowd, it was really nice…
What is one fun fact that very few know about you?
I read a lot of comic books and I'm a big superhero fanatic.
…Who's your favorite superhero?
(laughs) It's probably Batman, especially because the comics are very well written/illustrated. There are also some stand-alone stories that are really really good.
What do you have planned for 2019? Are you working on anything new, perhaps a new album?
Yeah, the set I played before Kinematik was actually the new album but I made it a bit shorter for time's sake. I will also be working on a new Bunny Tylers album with Charbel Haber; I don't know when we're gonna release it but yeah, that's the plan. New albums by bands I produce like Postcards, Kozo, Kinematik, etc. are also in the making.
A mixtape consisting of the songs that shaped Fadi's sound, curated by the artist himself, will be published next week. Stay tuned!