At some vague part of my quarantine journey, I stumbled upon a pirate radio in my daily spiral of thumb swiping and double-tapping. I felt nostalgic for a poetic image of families gathered around the radio playing shortwave pirate channels, teenagers on bunker beds waiting for their favorite Rock show to come up, or kitchen workers pausing their hustle for a minute because a good tune is playing.
I had the pleasure of chatting with some of the people behind Radio Alhara, Hammam Radio, and Radio Al Hai to learn what they really sound like. We're starting this 3-part series with Hammam Radio. Get to know it below.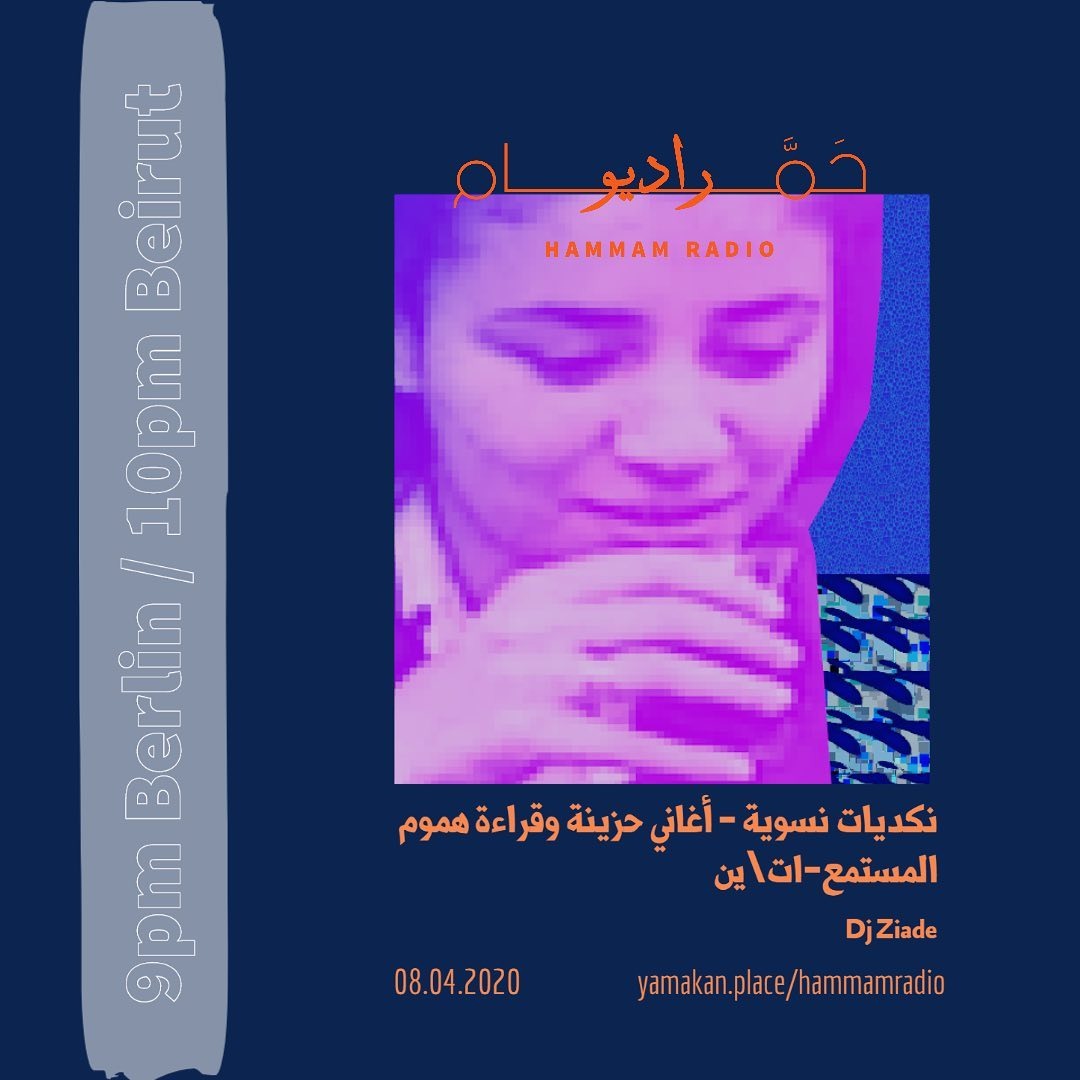 I video-called Abir Ghattas, one of the founders of Hammam Radio, who's currently based in Berlin. She picked up the call facing left, not sure if it's because she wanted us to notice the Raouche Rock tattoo on her arm, or because she was optimizing her not too shabby two-screen work station; we chatted about both nonetheless. When asked if the Yamakan Radio family can now be called a movement, she expressed it wasn't necessarily that per se, and jokingly added it could just be FOMO.
 "I think it's more of bettering yourself and everything around you because someone had a good idea, and that is Majd" she answered referring to Majd Al Shihabi founder of Radio al Hai. "I went on a show with him around 10 days ago and the next morning I called Rasha and I was like let's start a fucking radio." She recollected the spontaneous story of how a Berlin-based feminist radio started. 

So Hammam Radio is an extension of Hammam Talks which is a monthly feminist talk show that takes place in Be'kech bar in Berlin. Can you tell us more about it and how it evolved into Hammam Radio? 
Hammam Talks is an idea that Rasha and I came up with; Rasha is a very good friend of mine, she's a Palestinian journalist who also lives in Berlin. We used to sit and chat on my balcony a lot, and it first started with me saying "I bet if we record this and stream it, people would want to listen". That's when Rasha suggested we do it live, and we figured it was a great idea. This was last year so we've been doing it for a year now; we've done 11 of them so far.
Hammam Talks is a monthly feminist talk show, it's basically a space for women and whoever identifies as a woman. We talk about women and anger, body image, queer identities, violence against women, motherhood, or we just share our stories. It's always a full house, and we're always joined by women from all over the world.
Now, with COVID-19 season, we realized that we cannot do it, and that's how the Radio was born. We figured we'd start Hammam Radio, which would be used as a general platform featuring Hammam talks as a show.
Do you feel like there are enough men showing up and taking part in these conversations?
There's ALWAYS enough men, you know what I mean? (she adds sarcastically)
One man… one man is one man too many, in my opinion—let's not go there! But we're always joined by men, some of them are our friends, they come for support, they don't take up too much space and they don't talk. Then there are men who really want to share their unrequired opinion and I'm always that bitch on stage, I'm just not giving them time anymore—khalas (translates to 'enough'). But men are always welcome.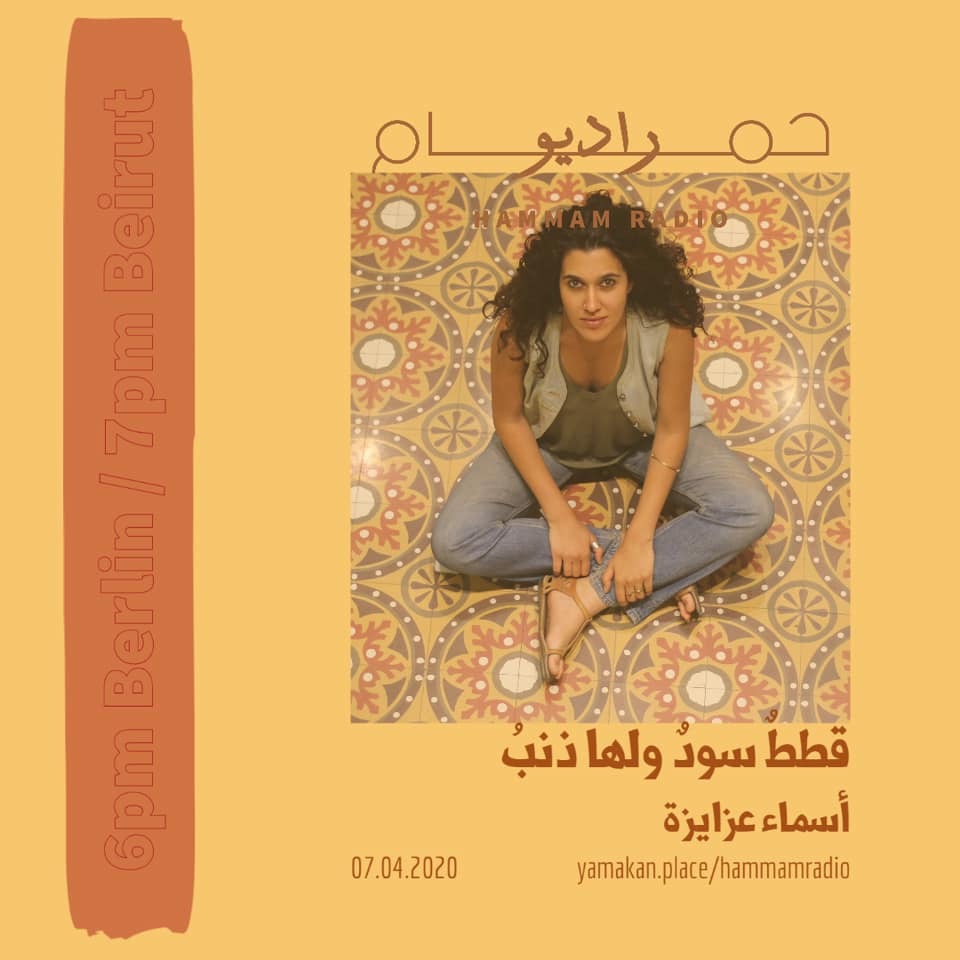 I've noticed that while you share most values/visions with other radios, Hammam Radio is the only one, so far, that has a clear socio-political statement and narrative. Why was it important for you that the radio is actually a feminist participatory project?
Well, for several reasons. I would say, firstly, because that's the only way it will look like us. I mean we're a bunch of feminists on the leftist spectrum of things. Paola (co-founder) is a Marxist feminist, I'm a social feminist, and we have other women amongst us who are leftist feminists. Secondly, again, we're all facing a serious problem right now which is Corona—but there are bigger problems like capitalism and the patriarchy. I'm not going to say they're the reason behind Corona, but of course, they're the root of all evil… Someone asked me why the other day, and I figured it was pretty simple: I want to be somewhere where I can hear other women say stuff I can relate to—it says that I'm not crazy, and I'm not alone. We've been getting feedback from women saying that they thought it was only them; but it's not only you, it's you and me and my mother and my grandmother and all women. 
She reads me a message about a single mom from Canada who discovered Hammam Radio and found strength and solace in the powerful women speaking truths uninhibitedly. "Please don't stop, let me know if I can support in any way," the message read at the end.
Globally, we're seeing more and more feminist movements around the world playing crucial roles, if not leading roles, in the fight for change especially in countries of recent uprisings like Lebanon, Chile, and Iran. Your radio bio starts with a firm belief that women's voices are important, if not crucial, in our times of crisis. What does that mean to you and why did you choose to start with that?
Very simply, I feel like we've been rendered deaf by male voices. I'm not saying I don't want to hear them, but they've been occupying the space for way too long and will, unfortunately, remain that way for much longer. But if I get to elbow out and push left and right to reclaim my space, I'm going to do it. I think women's voices have always been present and took charge. The feminist movement in Lebanon has always been there but in different forms, maybe a bit more conservative before. But now, if we're talking about Lebanon, the stigma and the stereotypes around feminism and feminists have been clearing out. Mainly because more feminist movements have been practicing intersectionality, discussing things like sex and sexuality, migrant workers, mental health, even capitalism and economic emancipation, and that reflected our ethics of care. Yet mostly, it's because of some very few brave women who came out and said they're feminists and triggered real conversations. I feel like that's the spirit of Hammam Radio.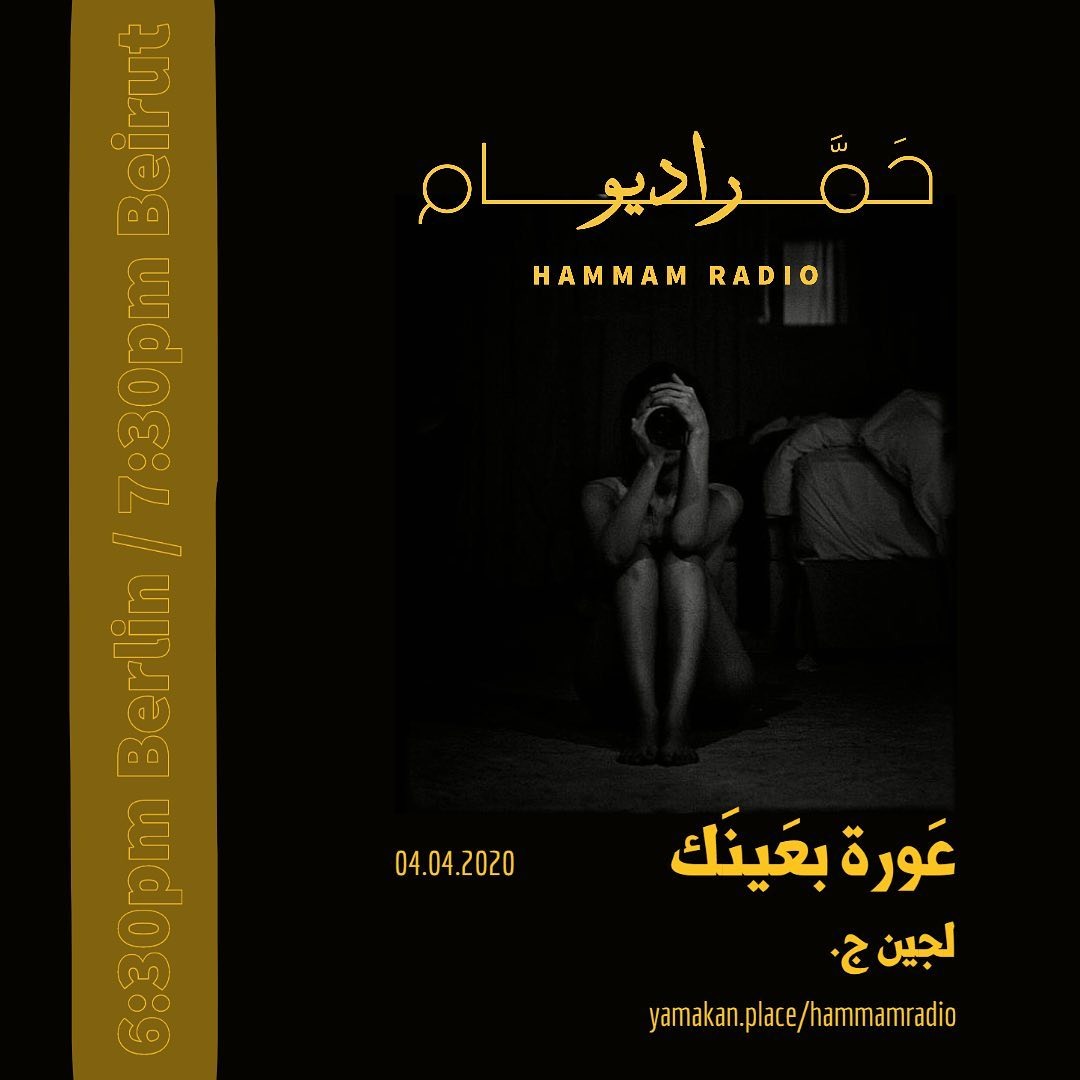 It says that Hammam was inspired by the concept of "Hammam al Arabi" where women convene and connect in a safe space that is separate from men by date. Do you feel that Hammam Radio is breaking this separation and welcoming people in, or would you say you're showcasing the spirit of Hammam al Arabi as is?
Well, the concept of Hammam was more than just a space for women, it was the act of reclaiming public space. Hammams are public spaces, but they become private when occupied by women walking around naked. Be'kech is a public space but we reclaim it once a month and transform it into a safe space. It's the same concept on the Radio; but on the radio, I can't tell who's listening. I can tell how many people are tuning in (which is a lot), I mean you're there. But for sure, the majority of our followers and listeners are women, the feedback we've been getting is mostly from women, and we have all-women programs. Organically, it became a space where women can hear other women talk and connect with that. We had Lujain Jo (a filmmaker and videographer currently based in Beirut) the other day, talking about how her first experience with quarantine was imposed by her father rather than a global pandemic, and all the comments we've received were "you and me both!" We didn't necessarily see it as a matter of breaking separation or showcasing, I guess as Rumi said, "whatever you're searching for, is searching for you"; I think that's our radio. That was good, I'm using that to start my show today.
Have you started the conversation on what happens post-COVID?
She shared her personal visions off-record but expressed the future is not set in stone. 
I mean we are really invested, though. I've never ripped off this much music in my entire life, I have never downloaded this much mp3's either; it's back to 1995. And it's (the subscription fee) like I'm buying two packs of smokes in Norway (She jokingly teases a hopeful future for Hammam)

Some of the people reading this might be listeners of Hammam Radio or might tune in for the first time. Would you like to leave them with a message?
Yeah, listen to women more—in all matters, just listen to women more.
Tune in here.