In Beirut, a city that reminisces about nostalgia more than anything else, old and new record stores are thriving driven by its collectors' passion and dedication. Tucked in different corners of the city, these record stores document a different kind of history. We hunted them down to give you the below guide to Beirut's musical storytellers.
THE LICK RECORDS
The Story
Running their own record store has always been on the bucket list of the Rifai brothers. Growing up, collecting records was a common thing around them – their father and his brothers are all vinyl collectors so it was only natural for them to become audiophiles. But the two are different in how they use their collections, one uses his to DJ while the other for sampling and music production. The idea started to become more tangible when they met Jade, the founder and DJ of places like The Basement, Grand Factory and AHM – who happens to also be a big vinyl addict. The new friendship evolved and in early 2018, they decided to open a record store with a goal to grow and support the vinyl community. The final step was when a common friend, Bilal Nahouli, the owner of Bloc Market (a joint venture of stores, restaurants and pubs), offered them an ideal space for the store. With the four partners working together, The Lick Records opened its doors at Bloc Market on July 26 with a huge party and the support of their friends at Soul Kitchen Sound System. As for the name, it can be interpreted in different ways, the obvious being the chameleon's lick where it shoots its tongue out at lightning speed to snare its prey (hence the logo). For the more musically savvy people, the lick would be referring to the improvised solo performances by musicians. For the dirty-minded people out there, well… you're also correct.
We carry a lot of Independent labels that cover all genres of music like My Bag (Analog drum ensemble, Medline), Hive Mind (Maalem Mahmoud Gania, Rodrigo tavares), Analog Africa (A huge collection of long lost African music repressed for your enjoyment) , Bongo Joe records (Altin Gün, Walter Gavitt Ferguson) Stones Throw (J dilla, Anderson Paak, Madlib, MF DOOM, Sink) etc… We are also big on supporting the local scene with labels like Ruptured (Postcards, The Bunny Tylers, Munma, Kinematik, Jad Atoui…) and of course all the 60s 70s 80s and 90s classics in original pressings like Rock, Pop, Funk, Soul and Jazz… Our instagram page (@thelickrecords) is very active, we post daily listenings so followers can get inspired by new music and discovery what we have. New arrivals are also announced on the page.
Location: Block Market, Beirut – Follow directions here.
+961 3 822 977
This slideshow requires JavaScript.
The Secrets, Unraveled
The one rarity you've been looking for forever and never found: The test pressing of the album Madvillainy by legendary duo Madvillain.
The one record you'd never sell: Illogic – Celestial Clockwork, a conceptual album by underground New-York rapper Illogic. It doesn't have a particularly high price but it's rare.
That one comment/question customers should never ask: "Why is the old version of this album more expensive than the new sealed one?"
---
DARSKO RECORDS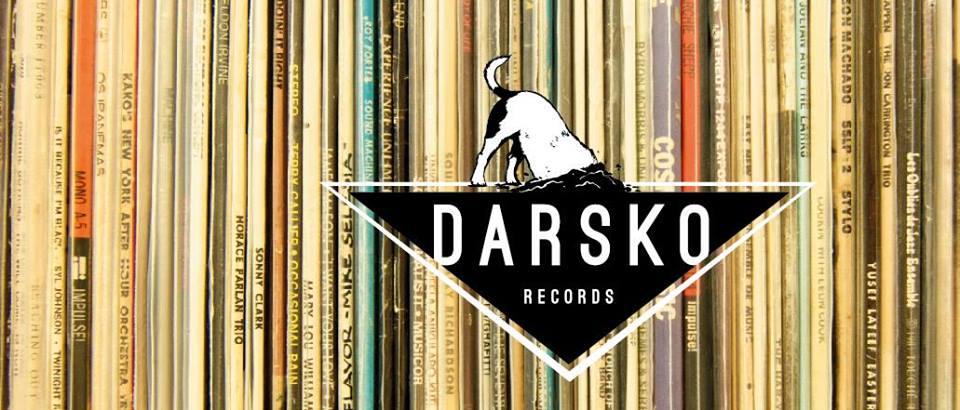 The Story
I inherited this shop from my grandfather – it used to be a shoe factory – and I decided to open it to store my records, which were filling up my house. I've been collecting records since I was 13 and working in music since I was 16, so opening a record store came naturally.
Darsko is on Marash Street in Bourj Hammoud. It's not somewhere that many people pass by, it's pretty far out, so people usually make phone appointments to come! In my shop you can find records for every budget – I have records from 5$ up to 2000$. It's mostly music from the 60's and 70's in soul, Arabic, prog, kraut, funk, soul and jazz. I basically sell records that I love.
Location: Bourj Hammoud – Follow directions here.
+961 70 990 198
This slideshow requires JavaScript.
The Secrets, Unraveled
The one rarity you've been looking for forever and never found: There are so many records that have been on my want-list for years and I haven't yet been able to find. One of them is Hailu Mergia and the Walia's LP 'Tchew Belew', released in 1977 on the Kaifa label. It's probably my favorite Ethiopian record.
The one record you'd never sell: There are plenty of records I would never sell, but I would definitely never part with the 1970's LP 'Free of Changes' by Lebanese prog rock band Rainbow Bridge with Toufic Farroukh and Issam Hajj Ali. I found it 10 years ago in the flea market and didn't know anything about it, but it sounded great. I asked around about the LP and couldn't find anything written about it online. I have the only known copy in existence – it was an independent release so they probably only printed a few, and maybe none of the other copies survived. It was only last year that I found out who was behind the record, when a friend told me he'd been discussing Issam's music career and this record came up. Even Issam told a friend he doesn't own a copy.
That one comment/question customers should never ask: They're free to ask whatever they want!
---
SUPER OUT (ROY HAYEK)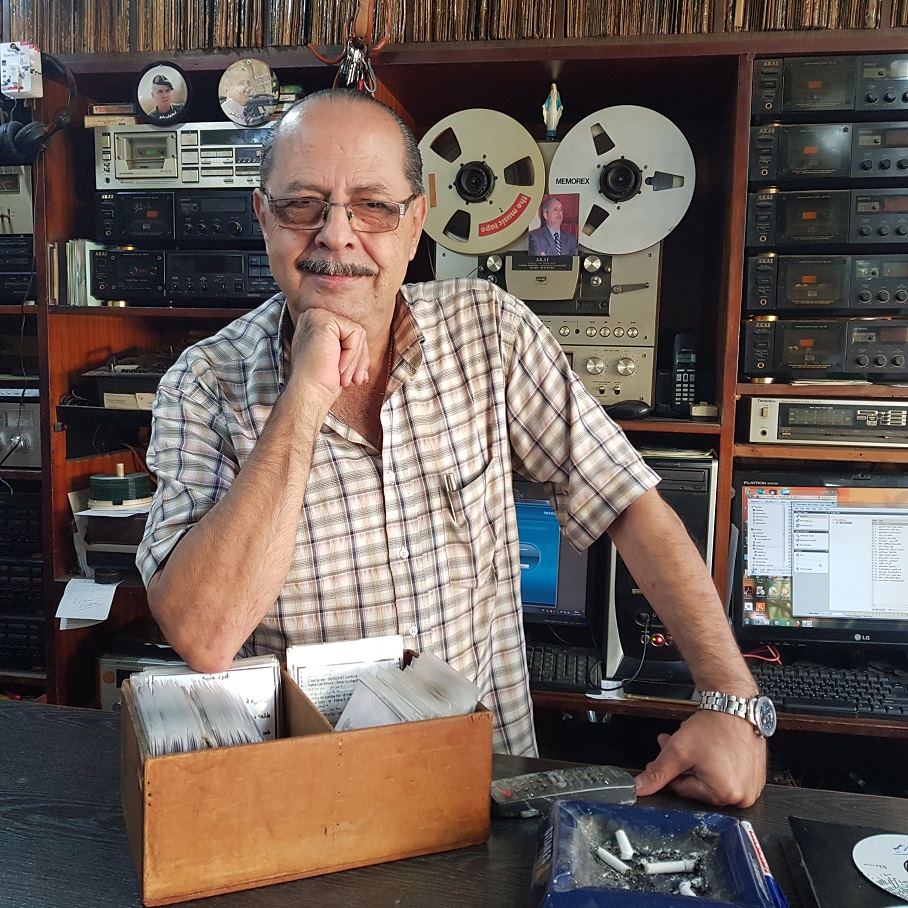 The Story
I've had a passion for vinyl discs ever since I was a child. I used to buy Top 10 45's before the war. Then, in 1979 I opened the store. My father helped me of course as the store was his. Ever since, I started hunting down records from all over the world. I've been to France a lot and got a lot of my archive from FNAC, other parts of my archive from Germany and so on… Whenever someone was visiting from abroad I would ask them to get some discs with them. Today, I have an extensive archive of vinyl discs from single records to sets and more.
I believe it's because of my great memory when it comes to music. Also, I'm usually very helpful and nice to people who come visit except the annoying ones; those who come to waste time. As I said, I've built an extensive archive and people often visit from abroad to purchase something from my collection. I don't just collect records, I pamper them.
I even curate compilations of music videos. I download the ones I don't have from the internet and edit them to create a harmonious compilation. It's not so easy to come up with a solid compilation. For instance, you can't play Santana with Boney M.
Location: Mar Mikhael – Follow directions here.
+961 01 442 985
This slideshow requires JavaScript.
The Secrets, Unraveled
The one rarity you've been looking for forever and never found: There is no record I am personally looking for right now. Sometimes customers ask me for rare records that they can't find. I often have one of these records and wouldn't ruin my collection. A while back a customer wanted a Mona Maraachly LP, another time a Dalida one which I had only 1 copy of and that copy belonged in my collection.
The one record you'd never sell: There's not one record I would never sell as there are many. Fairouz has records printed in London, Oum Kolthoum has records printed in France, Stomu Yamashta live records, Ron Goodwin, Alfred Nehme… I hold on to my collection. For instance, it took me 20 years to compile my collection of Fairouz's record;  I would not let that go! In fact, I have a white copy of one of her concerts in Canada. The concert's conductor made only 2 copies of that concert; he kept one and gave me the other.
That one comment/question customers should never ask: Asking personal questions like how much profit I make or the like. Even worse, asking me to show them my entire archive. I've spent years collecting them and I wouldn't give up just anything.
---
CHICO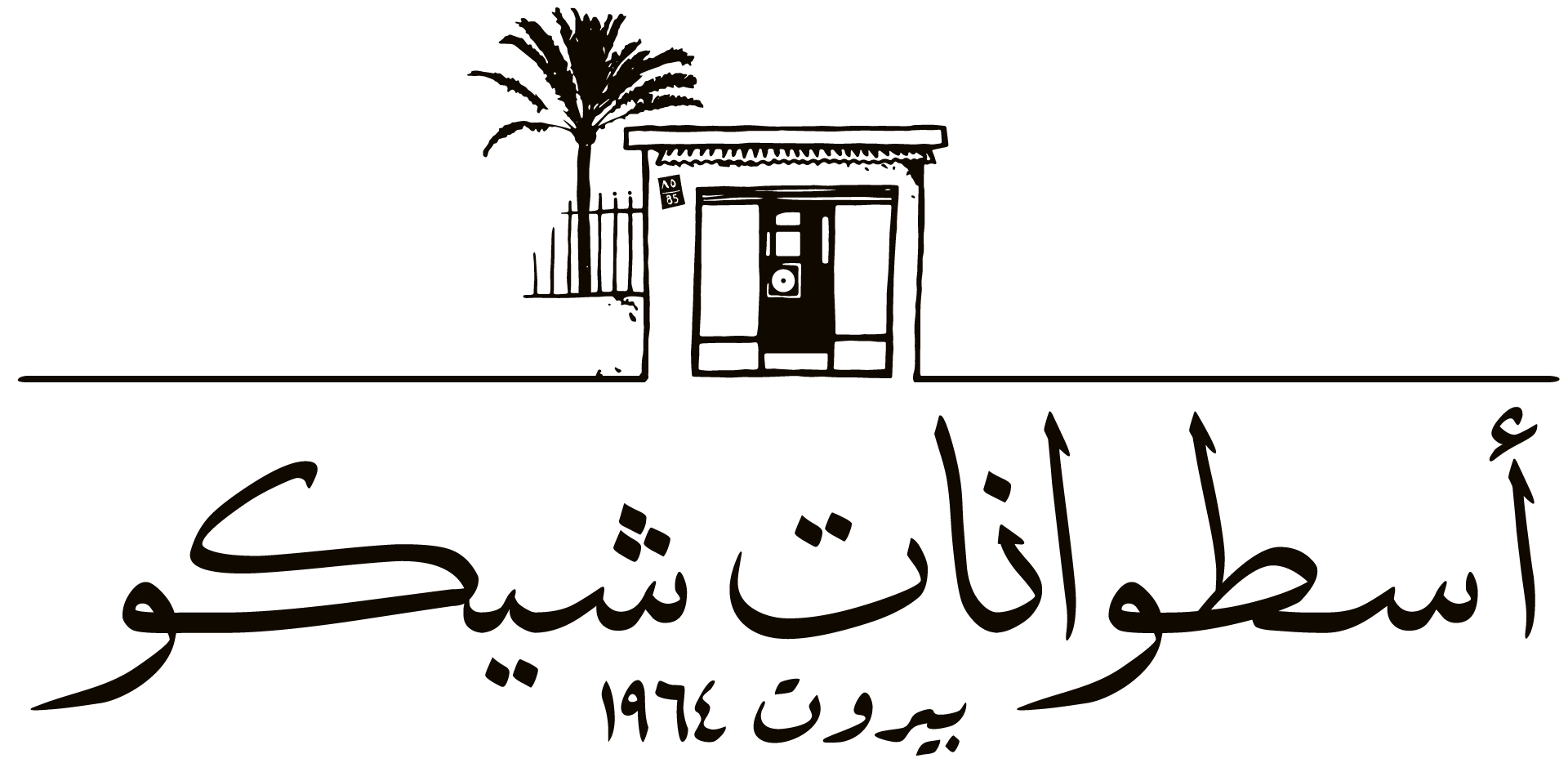 The Story
Chico Records was established by Khatchik Mardirian in 1964, in the neighborhood of Ras Beirut, at the tip of the Lebanese capital's legendary Hamra street. He was 20 years old, and had a passion and an ear for music. From a poor yet proud Armenian background, and fluent in English, French, Arabic and of course Armenian, Khatchik, or as everyone soon called him, Chico, quickly and tightly wove his business into the cosmopolitan and tolerant neighborhood fabric. In the 1970's Chico established the record label Zida, which had its headquarters at the shop and published only 10 LPs before folding. The catalog is nevertheless lauded as having excellent production values, and the titles maintain their status as highly prized collector's items, not least of which Ziad Rahbani's Abu Ali, arguably the finest Oriental Funk record in existence. After the Israeli invasion of 1982, Chico switched his focus to the newly burgeoning video scene. The civil war was in full swing, and the business did well despite (and because of) the bad situation. After the civil war ended in 1991, the business continued to grow and thrive, owing to the simple philosophy of persistently high standards. In 1995, Chico's younger son Diran took over the reins of the shop, having worked there daily since he was 12. 1997 saw the advent of DVD, and Diran quickly switched to that medium, growing the Chico collection to a 12,000 title library. In 2004, the shop moved to a new location a stone's throw away from the old. The much larger shop allowed for Diran to house and handle his record collection, which soon became the cornerstone of the shop's return to being a full fledged record store. By 2018, Chico Records housed over 10,000 vinyl records in the two-floored shop. The collection is mainly 60's and 70's rock and soul, and an Arabic collection second to none. The shop has contributed close to 2,000 hitherto unknown Arabic records to the Discogs database, and continues to deliver its persistently high standards online as well.
Location: Hamra, Beirut – Follow directions here.
+961 1 743 855
This slideshow requires JavaScript.
The Secrets, Unraveled
The one rarity you've been looking for forever and never found: There's nothing I'm really looking for, besides one title to complete my father's Zida label releases. I myself am not a collector.
The one record you'd never sell: Louis Prima's Buona Sera, a 45 I played ad nauseam when I was 3. My brother Paul preserved it beautifully until I reclaimed it a few years ago.
That one comment/question customers should never ask: "Can he/she exchange this?"
---
ORIENT EXPRESS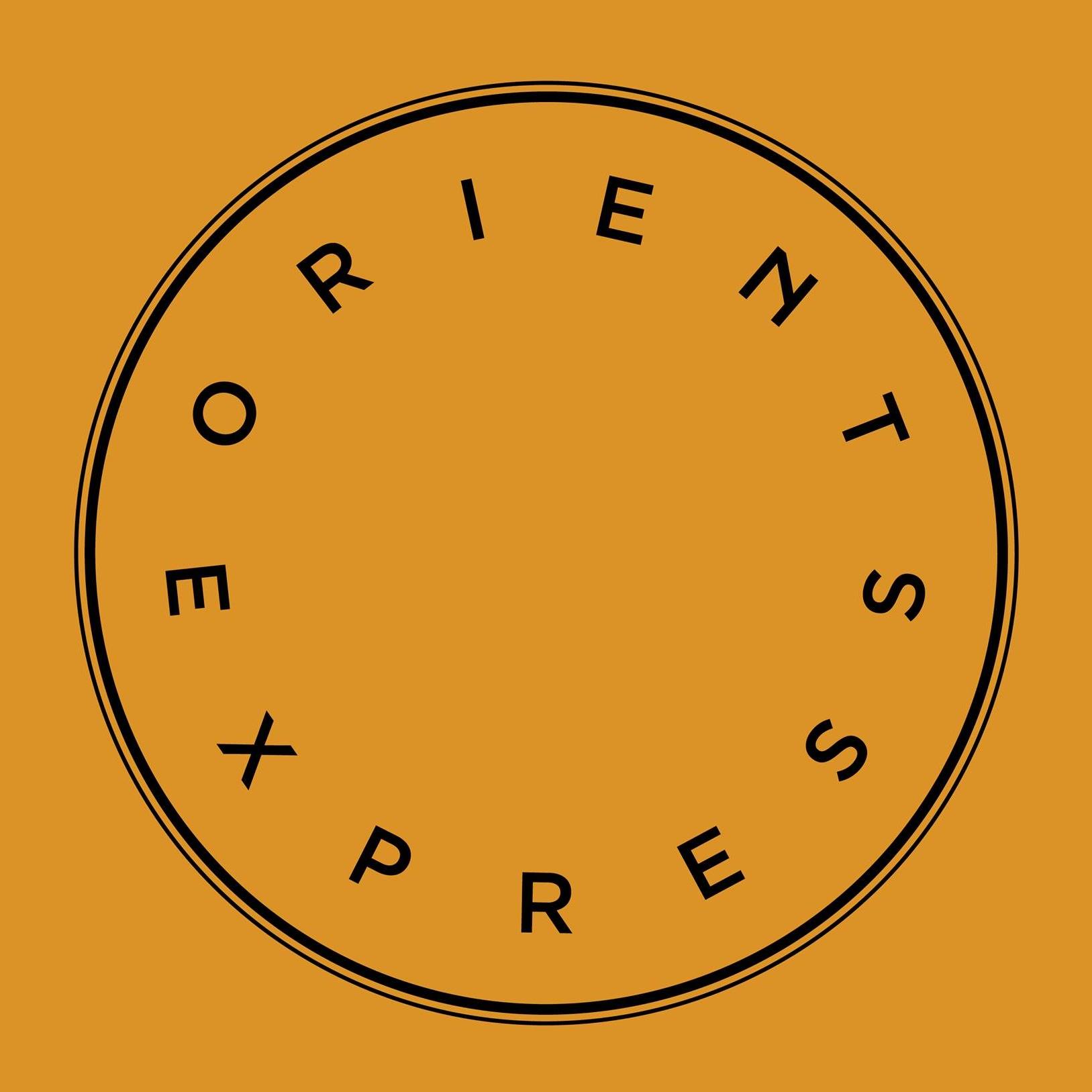 The Story
OE records opened on July 1st 2018. We are a group of music passionate friends who decided to embrace the vinyl records culture – more specifically the digging aspect of it. Our aim as a store is to match the same price range of record shops abroad. Each of our records is carefully selected, which is why we have a limited selection.
We offer a wide variety of genres, from electronic music tofunk, rock, hip hop, jazz and everything in between. You can find very rare pressings in our secondhand selection. Our aspiration is to support the DJ-ing aspect of it by opening daily our DJ booth from 4 to 6 PM. Anyone who'd like to play or train on records is welcome!
Location: Badaro – Follow directions here.
+961 70 114 400
This slideshow requires JavaScript.
The Secrets, Unraveled
The one rarity you've been looking for forever and never found: Raresh – Vivaltu Remixes LP on [a:rpia:r] and Fairuz – Sahra Maa Fairuz – سهرة مع فيروز
The one record you'd never sell: Rabih el Khaouli – Inti w Ana (Ali el Deek Remix)
That one comment/question customers should never ask: Do you have "Deep Shamanic Plaia House"?