Mashrou' Leila is a world-renowned Lebanese alternative rock band, known to be the catalyst of the Lebanese indie scene. They are quite controversial, to say the least, given that they criticize socio-economic, political and religious issues in the region. Hamed Sinno (lead singer) is openly gay—which is something that unfortunately serves as the cherry on top of the messy sundae that put them on the blacklist of many Arab countries. It also put a huge target on their back, making them victims of discrimination and censorship.
The band was set to perform in Byblos on August 9 as part of the Byblos International Festival lineup. A couple of weeks prior to their performance, religious figures called for the cancelation of Leila's concert, threatening to physically assault the band members and the attendees if the concert was to take place. The reason behind this was that the band was accused of offending Christianity due to the misinterpretation of the lyrics of two of their songs. Some of the labels that were plastered on them include sinners, devil-worshippers and promoters of freemasonry.
Following a week of interrogation and blasphemous accusations, the organizers of the festival decided to cancel the concert, in fear of putting the life of the band members and the attendees at risk.
This infuriated a good section of the Lebanese population whose members united in the name of freedom of speech. On August 9, the day Mashrou' Leila was supposed to play in Byblos, a free concert called Music is Louder took place at Aresco Palace, Hamra in support of the band and against censorship and repression. Regional and international press was there to cover the event, including LBCI, An-Nahar, L'Orient-Le Jour, Daily Star, Reuters, Independent, Vice, NPR, BBC News, Swiss Radio SRF and many more.
As if we needed actual reasons, but this one is for the people in the back. Here's why Music is Louder:
1. Music Unites Artists
Artists from different backgrounds, including rappers, DJs, music producers, actors, and comedians took the stage for 10 minutes each. The lineup included: Sandy Chamoun, Wissam Kamal, Randa Makhoul, Nada Abou Farhat, Waynick, Shaden, El Rass, Blaakyum, Badih Abou Chakra, Chyno, Nour Hajjar, Blu Fiefer, KŌZŌ 構造, Coffee Break, The Great Departed, Mayssa Jallad, Ziad Itani, Frida, Ziad Nawfal, Chadi Abi Chacra, Elshaar, Ziad Sahhab, Vladimir Kurumilian, Nasri Sayegh, Wass, Daneel, GIZZMO, Escalier 301B, Jamal Malaeb, Samah Boulmona, Khansa, Mona Hallab, Michelle and Noelle Keserwany, Rami Boutros, and Shway Shway.
Illustrators from Samandal documented the event through their unique, live, performance-to-performance drawings projected on the screen behind the performers. That's over 35 artists expressing themselves freely through the universal language that is music.
2. Music Unites People
The attendees were as diverse as a crowd can get. When you see an event with an 18+ age restriction, you usually expect to see youngsters, not grown-ass adults. Seeing the somehow older generation make an appearance drew a smile on my face, especially that old couple who was standing behind me. The man wanted to leave because they'd been waiting there for over an hour and the 'line' was only getting longer. His wife insisted on staying, telling him that they came all the way to support this cause so they have to at least go in for a few minutes, even if it meant waiting a bit longer. They were lucky enough for an organizer to spot them and offer to take them in before everybody else so I guess the wife's positive attitude paid off!
There were people there I never expected to see at such an event. People who—excuse my judgemental opinion—do not look like they'd be interested in such a cause.  The result: over 3500 attendees.
3. Music Exposes Society
The event was held to protest the censorship faced by Mashrou' Leila but the oppression of freedom of speech was not the only thing on people's minds. All the issues tackled by the band in their songs took center stage at some point of the event, be it through the stand-up comedy sets, the songs being performed, or the speeches that were given. LGBTQ+ flags were spotted everywhere around the venue and there was even a banner raising awareness about the rights of Palestinian refugees.
Music was used to speak up about human rights, injustice, corruption, and every single thing wrong with this country. This somehow united everyone because every single person could—sadly enough—relate to at least one.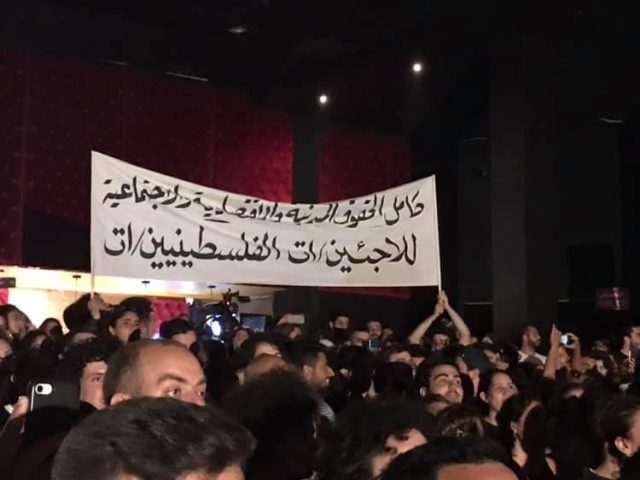 4. Music Brings Peace
It's safe to say that everyone was at least a bit worried about going to the event, given the aforementioned threats. The organizers of the event promised to provide security to guarantee a smooth, peaceful concert and they did not disappoint. There was public and private security personnel outside the venue, at the door, and inside. No problems occurred, no fights happened, everything ran smoothly. You call that a tribe of devil worshippers?
This slideshow requires JavaScript.
5. Music Gives Hope
The event is proof that there is still hope. People are still fighting, standing up for what's right, fighting corruption, oppression and repression. People haven't given up. Music is powerful. Music equals peace. Music equals freedom. That was the only weapon we used to unite and fight.
 "To those who haven't given up, love is resistance"